It's a huge week at Smoky Mountain Knife Works. Besides the fact that Vendor Rep Weekend starts this Friday, October 21st at our Retail Showroom in Sevierville, we've got a massive Vendor Rep Weekend Kick-off Celebration online this Friday that you will not want to miss! It will rival what we did online for National Knife Day.
Vendor Rep Weekend Kick-off Celebration
We're not going to let the cat out of the bag all at once. Flash Sales will be announced every hour on the hour from 8am – 6pm, Friday, October 21, 2016. Giveaways will be announced in between those Flash Sales (we have lots of giveaways that day). To follow along and get informed throughout the day, you simply need to follow us on any (or all) of our three major social media outlets: Facebook, Twitter, and Instagram. Simply click one of the icons below, and like/follow our pages.
Facebook
Twitter
Instagram
The Vendor Rep Weekend Kick-off Celebration starts at 8am(EST) on Friday, October 21 and will run through 6pm(EST). You will need to follow along at one (or all three) of our social media pages throughout the day to take advantage of the giveaways and flash sales.
All-Day Specials:
We're offering free shipping on any order of $50 or more all day long (some restrictions apply), and we're offering 10% off any Colt purchase, or 15% off any Colt purchase of $50-$99, or 20% off any Colt purchase of $100 or more.
One Hour Flash Sales (starting at 8am):
There will be a different Flash Sale every hour starting at 8am (EST), including sales from the following brands: Cold Steel, Condor, Ka-bar, Kershaw, Case, Boker, Buck, Victorinox Swiss Army, Remington, Brous Blades, and Outdoor Edge.
Giveaways (starting at 8:30am):
We have 15 giveaways from the following knife brands: Boker, CRKT, Ka-bar, Kershaw, Outdoor Edge, and Tops Knives.
Giveaway Policy: You must be at least 18 years of age and a resident of North America to enter SMKW Giveaways. There is no charge to enter, but you must follow the instructions in the caption of any social media image completely to enter. Giveaways normally run simultaneously on Facebook, Twitter, and Instagram. You may enter in the same giveaway on one or all three social media platforms. One finalist is selected at random from each platform, and then a random winner is selected from the three finalists. 
Vendor Rep Weekend starts this Friday, October 21st at 9am! Don't miss it.
As we've mentioned several times in the past few weeks, Smoky Mountain Knife Works has a huge event coming up October 21-23 (9am-9pm daily)!
What is Vendor Rep Weekend?
Every year, SMKW celebrates the brands we carry by hosting Vendor Rep Weekend at our retail showroom in Sevierville, Tennessee. This year more than 50 brands will send representation to this event to meet and talk with our showroom guests. The celebration, which runs from Friday, October 21 – Sunday, October 23 (9am-9pm daily), includes some great prices, incredible door prizes and giveaways all day, every day (must be present to win), and the opportunity to meet some really special guests. This is the one event that you do not want to miss!
Who are the special guests?
Dave Canterbury of Pathfinder School ( and star of the original Dual Survival) will be hosting Bushcraft & Survival Skills Weekend from a field beside our lower parking lot on Saturday & Sunday. There is no cost for this event, and Dave and his Pathfinder team will be teaching some amazing skills any survivalist needs to know. You can download a printable PDF of his schedule by clicking here: Bushcraft and Survival Skills Weekend Schedule.
Ka-bar is bringing renowned designers, Ethan Becker and Jesse Jarosz to man the Ka-Bar counter and talk knives with our showroom guests.
What else is happening?
Among the bigger giveaways that will happen all day, every day, Tru-spec is giving away  a Glock. Yes, you heard that right. They're giving away a Glock to one lucky winner. Come in and find out what you need to do to get entered to win.
What brands will have representatives available?
At the time of this update, 56 brands will have representation available during the event. Here's who's coming (in alphabetical order):
Adams Arms
American Digger Magazine
Anderson Mfg.
Ariat Boots
Armalite
Bear and Sons
Benchmade
Burris Optics
Camillus Knives
Century Arms
Coast Cutlery And Flashlights
Columbia River Knife & Tool
Condor Tool and Knife
Crimson Trace Lasers
DMT Sharpeners
Fenix Flashlights
Frost Cutlery
Gerber
Gransfors Bruks
Great Eastern Knives
GTI (Gingrich Tactical Innovations)
Havalon
Henckels
Iknifecollector.Com
Kabar
Kershaw
Lansky Sharpeners
Leatherman
Liberty Ammunition
Nordic Ware
Norpro
Oakley
Outdoor Edge
Painted Pony
Queen Cutlery
Ruger
Safariland Holsters
Savage Arms
Sig Sauer
Smith's Sharpeners
Smith & Wesson
SOG
Springfield Armory
Spyderco
Steel Will
Stonewall Kitchen
Tru-Spec
Victorinox
Weatherford Knife Co
White River Knife And Tool
Woody Handmade Knives
W.R. Case And Sons
Wusthof
Zero Tolerance
Zippo Lighters
Zyliss
5.11 Tactical
Where exactly is the event being held?
Located at the gateway of the Smoky Mountains National Park, Smoky Mountain Knife Works is the "World's largest knife showplace." More than 1.5 million guests visit our 108,000 square foot knife showroom in Sevierville, TN, and millions more receive a monthly print catalog and shop at smkw.com. Our current showroom hours are 9am – 9pm daily and we are located at 2320 Winfield Dunn Parkway, Sevierville, Tennessee 37876.
Here's a handy google map for you.
Zero Tolerance announces Limited Sprint Run of Model 0808 with Gold Anodized Titanium
Story Courtesy of Knife Newsroom
Zero Tolerance has announced a limited sprint run of the model 0808 in anodized gold titanium. This run of the popular 0808 pattern is available in limited supply at Smoky Mountain Knife Works (smkw.com).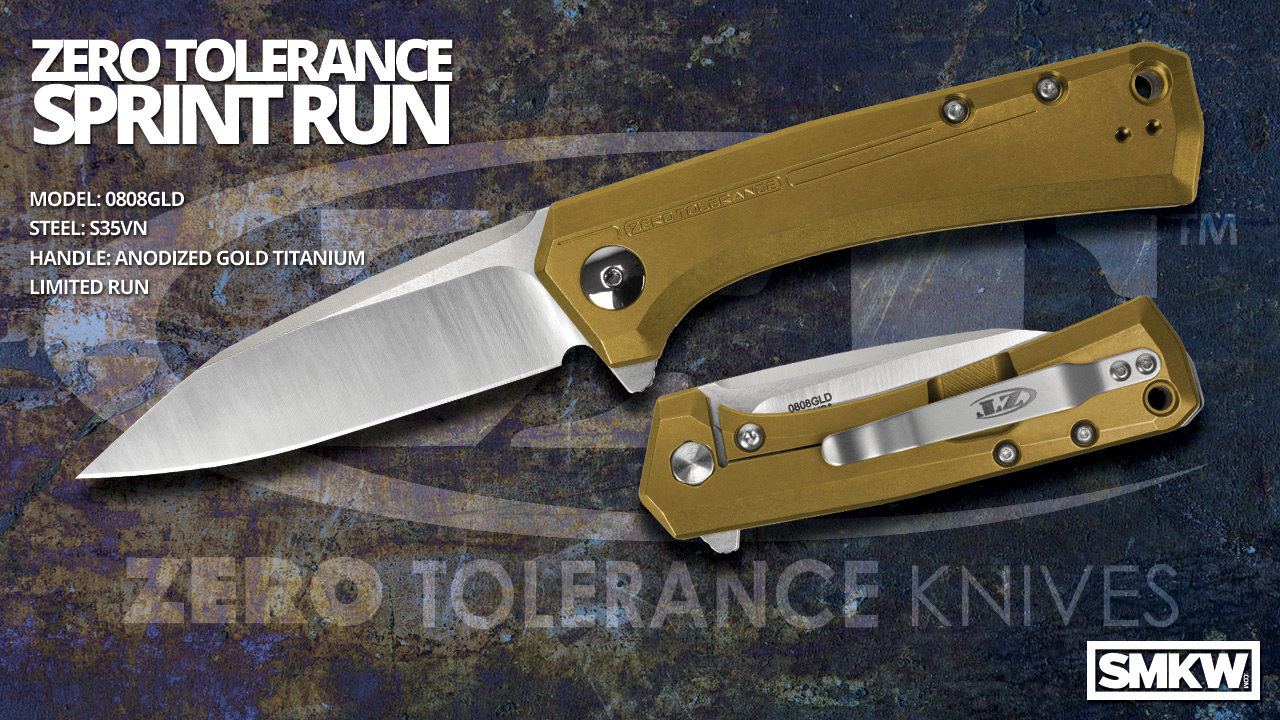 The Details: 
Manual open, KVT ball-bearing system
Flipper Mechanism
Frame lock, hardened steel lockbar insert
Steel: CPM-S35VN Satin Coated Finish Steel
Handle: Gold Anodized Titanium
Lanyard Hole
Blade length: 3.25 in. (8.3 cm)
Closed length: 4.3 in. (10.9 cm)
Overall length: 7.6 in. (19.3 cm)
Weight: 4.3 oz. (121.9 g)
Made in the USA


This is a limited Sprint Run and will go fast. If you'd like to purchase one of these while they last, click the button below to pre-order now. Smoky Mountain Knife Works has a limited inventory at $200 each.

Follow us on Social Media
We have Facebook, Twitter, Instagram, Pinterest and Youtube social media accounts, and we use them to quickly alert our customers about events, specials, fun facts, and of course, great giveaways.  Here are the links you need to follow our social media accounts. Click the icons below to find our pages.
You might also like