This coming weekend is our Benchmade Event at our retail location, and the following weekend is the annual Buck Knives Weekend. Both are fun events, so don't miss them.  Right now, however, we're going to look at some product we've got online and in the store (courtesy of Knife Newsroom).
Tops new Beast is here: The El Chete
Oh, Tops, Tops, Tops, what have you created? The answer: probably one of the most bada** short Machetes of all time. The new Tops El Chete offers some serious cutting power in a smaller than normal package (17.5″ is nothing for a machete). The El Chete has the right steel, design, and price to be an incredible deal (no matter how you want to judge it).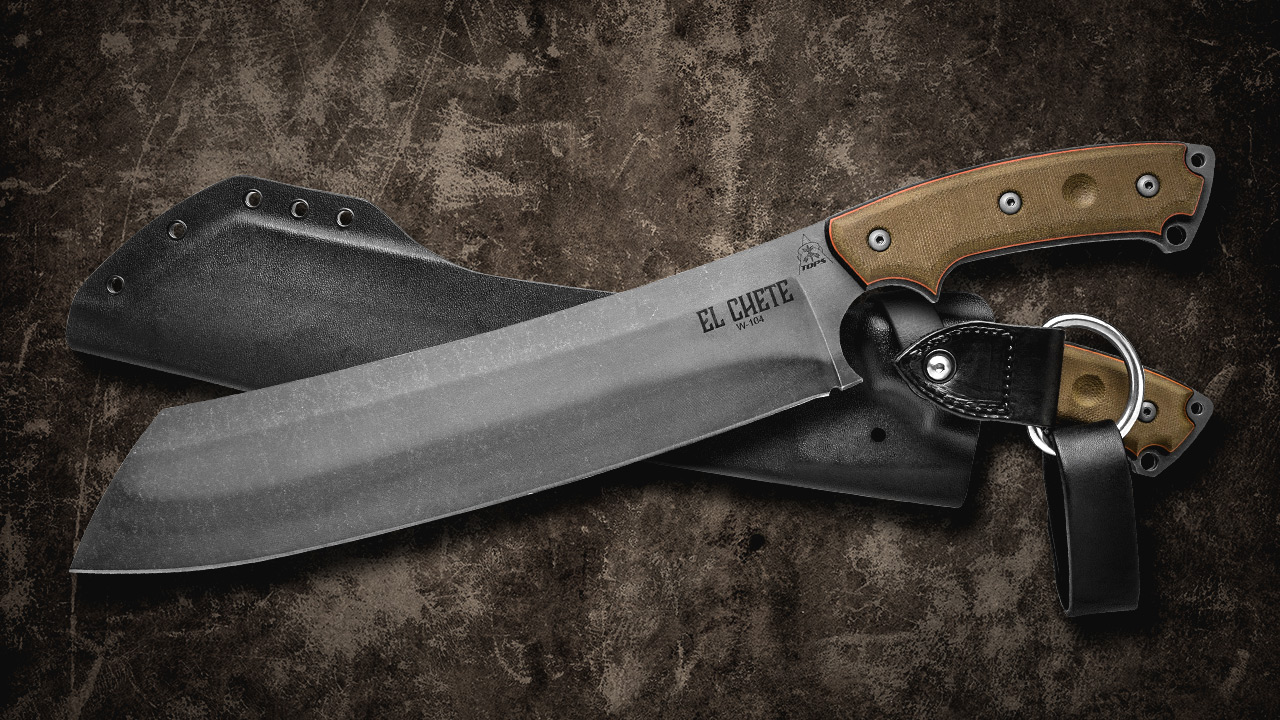 The El Chete has a unique blade design that gives it a solid advantage when chopping. It bows out in the belly and features a thick spine so it can baton and process wood on the go. Tops makes it out of their durable 1095 carbon steel, so it can hold up to massive amounts of abuse. I wouldn't try and cut down a tree with it, but i would blaze a trail through thick brush all day. And, if the blade wasn't aggressive enough already, Tops also decided to give the blade an "acid rain" finish. The cool thing about that finish is that it makes each blade somewhat unique. The etch process itself means that no two El Chete's are identical.
Everyone in bushcrafting knows that the handle is just as important as the blade. Tops engineered this machete with micarta handles. The micarta provides a few definitive advantages over other popular materials used in bushcrafting blades. They look better the more they wear, moisture doesn't effect grip, and they don't crack or fracture –  all key benefits in the wilderness. Tops knew exactly what they were doing when they planned this handle. The design is perfect from its ergonomic finger guard to its reinforced triple rivet design.
Tops also added a very durable sheath to the equation when they released the El Chete. It comes with a kydex molded sheath that secures the blade firmly to your person. The sheath comes with a belt loop (and included leather dangle attachment), but if metal belt clips are more your thing, they offer that too. You might be thinking "Logan, sheaths aren't that big of a deal," and you would be horribly wrong in this case. The El Chete weighs in at just over 2lbs, so if you want to carry it through the bush, you're going to need a nice sheath.
The Tops El Chete Details
1095 Carbon blade
Custom Acid Rain finish
Micarta handle
Kydex sheath (with metal clip option available)
17 1/2″ overall length
2.12 lbs
The Tops El Chete is a beast. That's it – no argument. Turn the lights off and go home. If you need something that's going to be reliable when the going gets tough, the El Chete is worth betting on. It has an MSRP of $300, but I found it at Smoky Mountain Knife Works – smkw.com for $199.99. Considering the price of great machetes, I'd say that's a pretty solid deal! You can find it by clicking the button below.

This Bushcraft Survive and Thrive Kit can save your life
Living in the Smoky Mountains makes bushcrafting second nature to me. However, it didn't start out that way. I've spent many adventures cold, wet, and miserable before I knew what I was doing. That's fine and all when its just for fun, but when it's life or death, it turns serious very quickly. Dave Canterbury understands that not everyone is a survival expert, and he doesn't expect them to be. Dave has released his new Bushcraft Survive and Thrive Kit which contains the basics for survival that can easily save your life in a tight spot. Usually, outdoors kits are full of "over the top" survival tools that are extremely pricey. Luckily for us, Smoky Mountain Knife Works knows that quality doesn't always mean expensive, and decided to sell the Bushcraft Survive and Thrive Kit for only $99.99.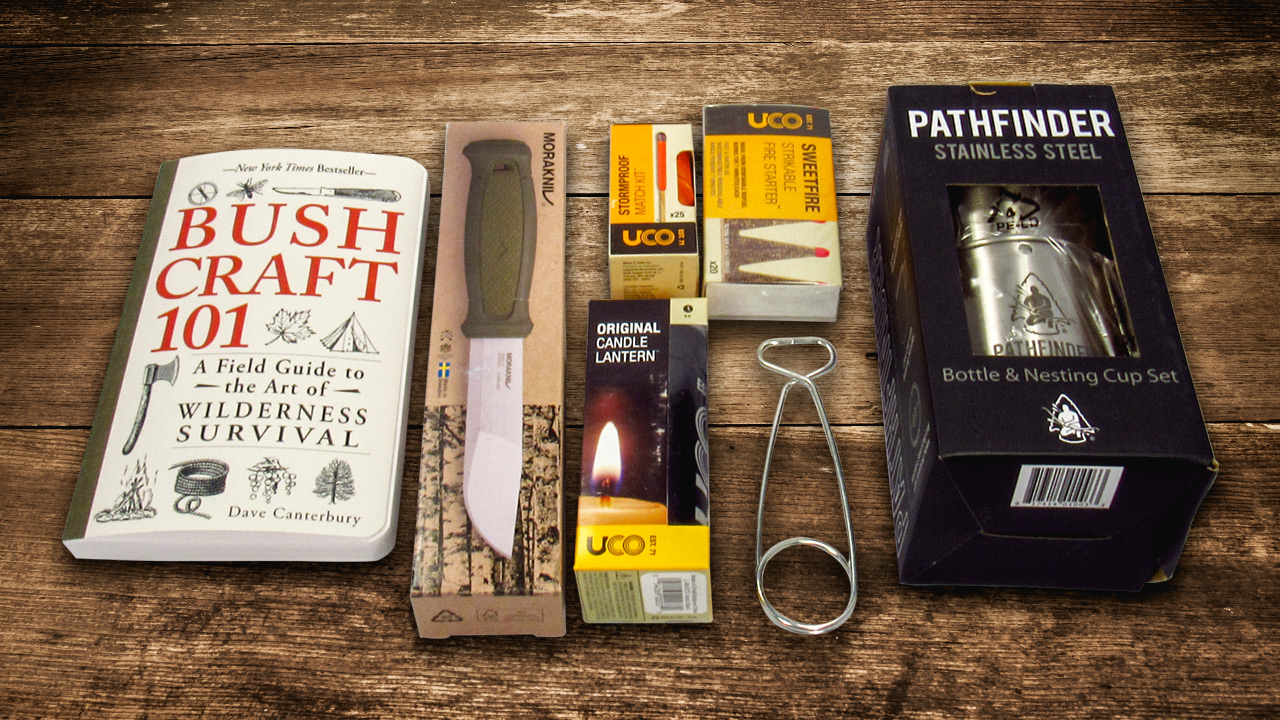 To me, the most important part of any outdoor survival kit is its knife. The tactical knives and automatics are certainly cool, but I don't think I would place my life in the hands of a Lightning OTF. Dave chose the perfect knife for this kit by adding a Morakniv Kansbol. It has satin coated stainless steel blade, OD green rubber handle, and full tang construction, which make it a solid performer in the outdoors. A knife like this is absolutely essential for survival, and this Mora confirms my belief that this kit is down to earth and not over the top.
The Bushcraft Survive and Thrive Kit also contains the second most important piece of equipment you need to survive: a bottle with cooking pot lid. When it comes to survival, water is the most important thing that you need to think about, and this bottle can accomplish two very important water related tasks. Obviously the bottle part is great for transport and storage of purified water, but the lid plays an important role too. If you've ever gotten sick from drinking contaminated water while bushcrafting, I doubt it's a lesson you will ever forget – I know I certainly won't. The lid can actually be used to boil and purify water. Its stainless steel construction makes it ideal for this task and gives you a metallic surface for emergency signaling. The bottle doesn't weigh much, but it's worth its weight in gold when you're forced into a survival situation.
Dave's Kit also has some very cool UCO fire tools that come in pretty handy. The Bushcraft Survive and Thrive kit includes strike-able Sweetfire tinder sticks and a storm-proof match kit. Each item plays a specific role in survival and is actually a generous addition to the kit. Fire can be the "make or break" in the event of an emergency. They say that your mental state is half the battle to survive and thrive in the wilderness, and fire is a huge motivation boost. This kit offers three ways you can start a
fire, and each one is better in different scenarios than others. Dave took no chances in making sure you have the tools to survive and it's apparent just in the fire-starting gear.
The kit also includes a UCO candle lantern that's a subtle, yet practical comfort piece. Obviously, it's practical for seeing in the dark, but it also can help your makeshift shelter feel a lot more comfortable. Survival can be scary, especially at night in the wilderness, so having a candle lantern can really ease your mind.
I know what you're thinking, "Yes this kit has some cool items, but how does that help me if I don't know how to use them?" No worries, guys. Dave also threw in a copy of his book "Bushcrafting 101." This book will not only cover the basics and what is in your kit, but it also covers more advanced techniques that can really improve your situation in the wilderness.
Dave really breaks survival down into a step-by-step process that's easy for any novice to follow. I would argue that the book may be the most important part of this kit – and many would agree.
Contents of this kit
Morakniv Kansbol
Pathfinder bottle
Cooking pot and lid
Sweetfire tinder
Storm-proof match kit
Classic candle lantern
Dave Canterbury's book "Bushcrafting 101"
Dave did an excellent job when he pieced together the Bushcraft Survive and Thrive Kit. Not only did he include some of the most respected brands and tools on the market, he also included his book so you can use them effectively. For $99.99, the Bushcraft Survive and Thrive Kit is certainly worth picking up – personally, I think the knife and book alone are easily worth the price.
I found this kit while wandering around Smoky Mountain Knife Works. If you've never been, it's certainly worth a visit. If you're not headed to the Smokies any time soon, check out their online store, smkw.com. I'll go ahead and drop you a link to the kit below.

Rough Rider Bolster Stripes series, old-school elegance at its finest
The new Rough Rider Bolster Stripes series of traditional pocketknives reflects Rough Rider's commitment to quality and elegance. They are a mixture of elegant accents and old-school bone design, continue the Rough Rider's reputation for producing luxury pocket knives at very reasonable prices. The Rough Rider Bolster Stripes series start at only $7.99 and top out at $12.99. They're truly luxury anyone can afford.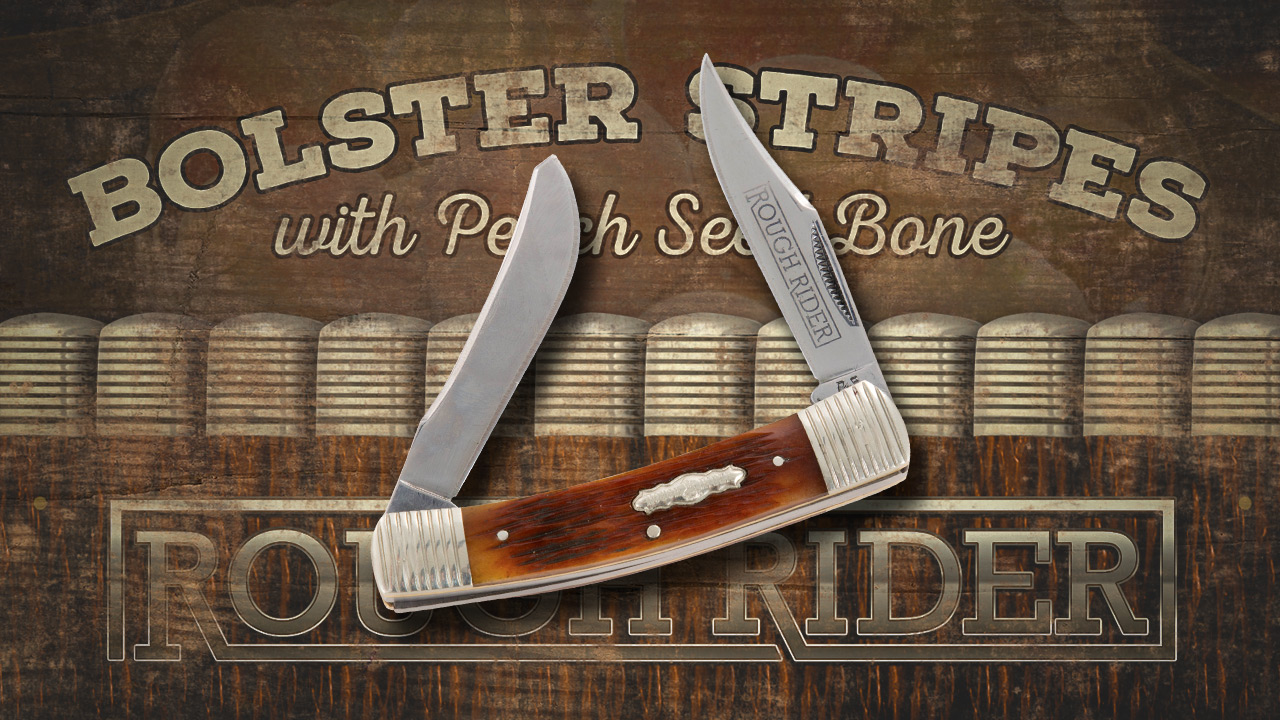 Rough Rider makes the Bolster Stripes series in many popular patterns. They are available in the Little Toothpick, Sowbelly, Trapper, Canoe, Cub Lockback, Moose, Small Lady Leg, and Lockback designs. With the varied blade setups that are offered, it's not hard to find one that's perfect for your needs. The smallest knife is a mere 2 1/2″ closed (Cub Lockback),  and they run up to a full size 4 1/8″ closed (Trapper).
Click any image below to launch a slide show of larger images.
Rough Rider does a fantastic job of providing a razor sharp edge right out of the box, and they make their blades from quality 440 stainless steel. They use 440, because it holds an edge fairly well and doesn't take a lot to sharpen back up. It's very similar to having an old carbon blade, but without the corrosion issues. Rough Rider finished the blades with a beautiful reverse frosted etch. It's the little details like the embellishment that scream high-quality and luxury knife.
The Rough Rider Bolster Stripes series features handles made of genuine jigged peach seed bone. The series takes its name from bolsters that feature predominant striping. It's not only unique, but also shows off the wonderful craftsmanship that Rough Rider has to offer.
The Rough Rider Bolster Stripes Series Details
440 Stainless steel blades
Genuine bone handles
Nickel silver striped bolsters
Collectors gift box included
Rough Rider has done a fantastic job of being loyal to their customers. They continually increase quality, while not increasing cost to the consumer. I wish more cutlery companies would do the same, but at least Rough Rider is here to stay. I found the Rough Rider Bolster Stripes series at Smoky Mountain Knife Works – smkw.com. You can find these knives by simply clicking the button below.

Do not miss our Daily Flash Sales
Now, if you're not keeping up with our Daily Flash Sales, then you're probably missing out. The prices are simply outstanding and sometimes hard to believe. Each morning at 9am, we put up to eight items onto our Flash Sales page, and the prices are good for 24 hours (til 9am the next morning). If you love knives and get in the habit of checking that page every day, you will definitely find something that strikes your fancy. Your wallet will thank you. I promise.
Upcoming Events
June 30 -July 1
Benchmade Event
Smoky Mountain Knife Works
July 7-9
Buck Weekend
Smoky Mountain Knife Works
July 14-16
Smith & Wesson
Smoky Mountain Guns & Ammo
July 14-16
SOG Event
Smoky Mountain Knife Works
July 21-23
Taurus Event
Smoky Mountain Guns & Ammo
Follow us on Social Media
If you're not following us on Facebook, Twitter, and Instagram, you're missing out! We use them to quickly alert our customers about events, specials, fun facts, and of course, great giveaways.  Here are the links you need to follow our social media accounts. Click the icons below to find our pages.
facebook.com/SmokyMountainKnifeWorks/
instagram.com/smokymountainknifeworks/
twitter.com/SMKWcom
You might also like