Well, we've just wrapped up our big SOG Weekend with special guest and SOG Founder, Spencer Frazer. Here's a couple of images from that event. It was a load of fun.
Summer is in full swing, and we have a bit of a break before our next event hits the calendar, but it's one you should write down right now. Thursday, August 24th is National Knife Day and if there's only one day of the year that you follow SMKW on social media, National Knife Day is the day to do it. We've been getting our plans together for our "high holiday" here at Smoky Mountain Knife Works, and you will not want to miss it. We promise.
TOPS releases the Tanimboca Puukko
Breaking News – Ucon, Idaho – TOPS has released the new Tanimboca Puukko, a fixed blade knife based on a traditional Scandinavian Puukko and designed by Goran Mihajlovic. The Tanimboca Puukko is 7.75″ overall with a 3.63″ 1095 carbon steel blade and features traditional elements with TOPS' style.
"Goran is originally from Serbia but grew up in Germany. He has lived in Colombia now for the last 20 plus years. He owns a nature reserve called Tanimboca that houses hundreds if not thousands of species of plant, animal, and insect. Throughout his entire life, he has been a knife user and enthusiast," TOPS says. More recently, Mihajlovic began creating his own knives in his Amazon jungle forge. He favors Puukkos, "their ability to perform well at large variety of cutting tasks," TOPS says.
TOPS tells us that "Through the years, [Puukkos] have remained largely unchanged. Characteristically, they are Scandi ground knives with thick, round wooden handles. Most do not have a finger guard, which allows the person using it to get their hand as close to the cutting edge as possible. This gives the user very precise and controlled cutting. Its simplistic design is both useful and intuitive and has definitely withstood the test of time," TOPS says.
Further, the TOPS Tanimboca Puukko "has the classic Puukko blade with a very slight clip point. The spine is ground to 90 degrees for scraping tasks. Well-rounded Tan Canvas Micarta handles with red liners honor the traditional style," TOPS says.
The Puukko features a full tang, tumble finish 1095 carbon steel blade and a tan micarta handle. The 7.75″ Tinimboca Puukko is tough knife, but small enough to wear as a neck knife (with some additional chain or cordage).
The Tanimboca Puukko Details
1095 Carbon steel blade
Tan Canvas Micarta handles
Brown Leather sheath included
Blade length: 3.63″
Cutting edge: 3.50″
Blade thickness: 0.13″
Overall length: 7.75″
Weight w/ Sheath: 6.89oz
Made in the U.S.A.
TOPS says "Once you get your hands on the Tanimboca Puukko, you won't want to put it down." We'll leave that up to you to decide.  Just click the button below to find it.

Case yellow-handled pocketknives now with Stonewash Chrome Vanadium
Case yellow-handled pocketknives sell better than almost any other style Case offers, and now Case offers them with a stonewash chrome vanadium finish. Say what you will about fancy or exotic handle materials, Case's yellow synthetic handle pocketknives with chrome vanadium blades still sell like crazy. They've been carried and used for years, and that's exactly why it's nice to see a riff on this Case classic.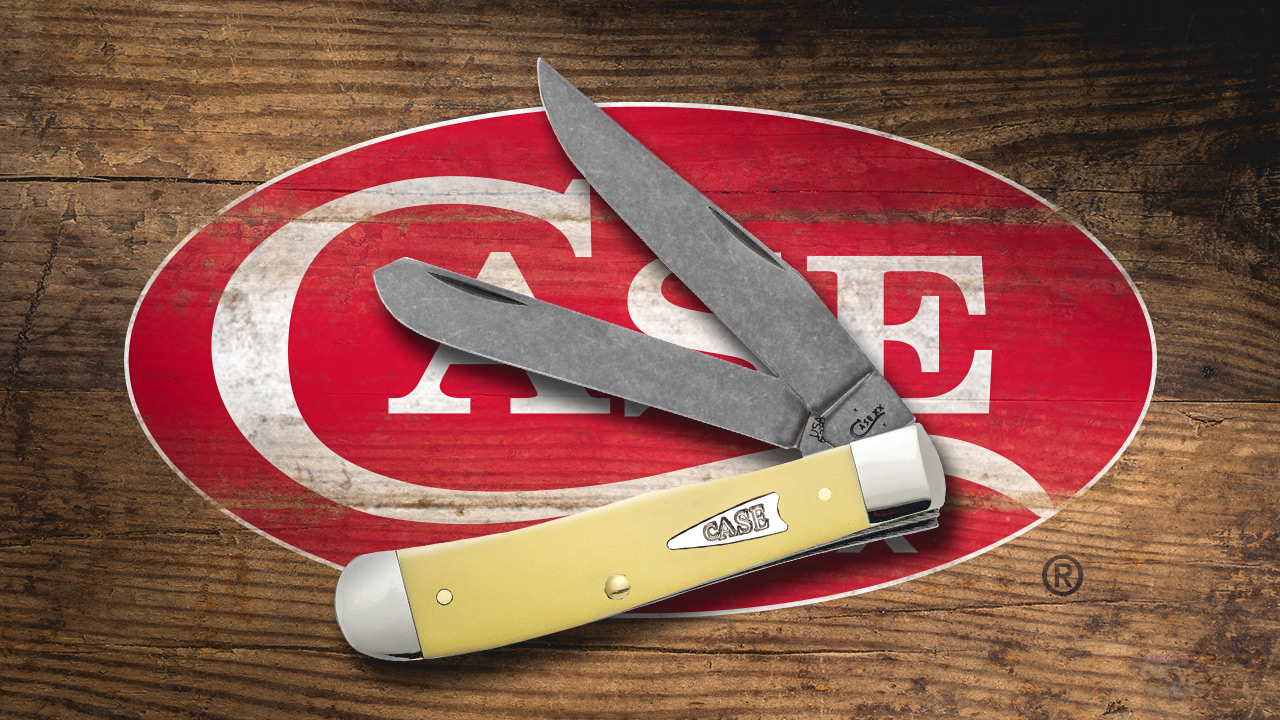 Case is now offering five traditional pocketknife patterns with yellow synthetic handles and stonewash chrome vanadium blades. They include the Slimeline Trapper, the Sodbuster, the Large Trapper, the Mini Trapper, and the Medium Stockman. These stonewash chrome vanadium knives start at $37.99 (for the Sodbuster) and top out $59.99 (for the Medium Stockman).
It's rare not to see a high-polish finish on a Case knife. You can usually catch your reflection quite easily in any of their pocketknives. These knives have all the features you know and love about Case yellow-handled, chrome vanadium knives. They're just finished up with a modern (yet old looking) stonewash finish. We truly love how these look. They're brand new but the finish makes them feel old school.
They're available online now by clicking the button below.

Do not miss our Daily Flash Sales
Now, if you're not keeping up with our Daily Flash Sales, then you're probably missing out. The prices are simply outstanding and sometimes hard to believe. Each morning at 9am, we put up to eight items onto our Flash Sales page, and the prices are good for 24 hours (til 9am the next morning). If you love knives and get in the habit of checking that page every day, you will definitely find something that strikes your fancy. Your wallet will thank you. I promise.
Upcoming Events
August 24
National Knife Day
A Massive Sales and Giveaway Event online at smkw.com
October 20-22
SMKW Rep Weekend
Smoky Mountain Knife Works
November 24
Black Friday
Smoky Mountain Knife Works & smkw.com
Follow us on Social Media
If you're not following us on Facebook, Twitter, and Instagram, you're missing out! We use them to quickly alert our customers about events, specials, fun facts, and of course, great giveaways.  Here are the links you need to follow our social media accounts. Click the icons below to find our pages.
facebook.com/SmokyMountainKnifeWorks/
instagram.com/smokymountainknifeworks/
twitter.com/SMKWcom
You might also like