It's Fourth of July Week, and we want to wish you a safe and happy holiday! We hope you have a blast (and keep all your fingers). Here's what's going on at SMKW this week, including a couple of great sales!
That's right. In honor of our Independence Day, we've got a 1776 Sale! We've got 76 items available for only $17.76! July 4th, 2017 only! Check out these great savings now by clicking the banner above or here: 1776 Sale!
And, to further celebrate the Birth of America, you can take 20% off select American-made products! Sale ends at 11:59pm on July 4th! Click the banner above to see the sales items or click here: American-Made Sale!
Buck Knives Weekend
If you're a fan of Buck Knives, then you won't want to miss Buck Knives Weekend at the "World's Largest Knife Showplace" Smoky Mountain Knife Works in Sevierville, TN on July 7th, 8th, and 9th. We've got lots of great Buck knives, special guests and amazing giveaways! Here are some of the details!
The event runs from Friday, July 7th to Sunday, July 9th. There will be one big Buck Giveaway each and every day of the event around 4pm. Here's what you could win (click any of the small images to see a larger version).
500 CB Pearl Duke

Introducing the Chuck Buck Collection, a tribute to an outstanding business leader and industry legend. Chuck Buck was extremely influential in Buck Knives' considerable growth as well as the design of many knife favorites. The 500 CB Pearl Duke is a beautiful reproduction of one of Chuck's favorite knives. The knife features a Mother of Pearl handle, stainless steel bolsters, and Chuck Buck's signature on the mirror polished 440C steel blade. Each knife is serialized with a total quantity of 250.
Blade Shape: Drop Point
Blade Thickness: 0.110″
Blade Length: 3″ (7.6 cm)
Weight: 4.9 oz. (138.9 g)
Handle: Mother of Pearl
Origin: Made in the USA
Retail Value: $400
Model 197 Yellow Jacket
This unique model 197 Yellow Jacket is a limited edition of only 250 knives. Designed by Buck's own Caleb Cooper, this handcrafted knife features a honey jasper, G10 and ironwood handle with a 154CM/S90V/154CM steel blade. It also comes with genuine leather sheath and a glass top display case to preserve and showcase your knife. This elegant knife combines unique materials with hand craftsmanship, creating a cherished heirloom that can be passed on through generations.
Blade Shape: Drop Point
Blade Thickness: 0.180″
Blade Length: 5″ (12.7 cm)
Weight: 6.2 oz. (175.7 g)
Handle: Multi
Carry System: Sheath
Origin: Made in the USA
Retail Value: $500
Custom Model 234 Glint
This unique custom model 234 Glint is one of a limited edition production of only 250 knives. The Glint features a flame anodized Timascus™ and multi colored G10 handle with a mirror polished 420HC steel blade. It also comes with a magnetized display stand to showcase your knife. This elegant knife combines unique materials with hand craftsmanship, creating a cherished heirloom that can be passed on through generations.
Blade Thickness: 0.120″
Blade Length: 3 1/2″ (8.8 cm)
Weight: 2.4 oz. (68.0 g)
Handle: Multi
Retail Value: $350
*Drawings will be held around 4pm each day and you must be present to win.
On Saturday, July 8th, we'll also have door prizes each hour!
Special Guests on Friday and Saturday:
President, CEO and Chairman of Buck Knives, CJ Buck
"Mr. Crappie" himself, Wally Marshall
National Sales Manager, Chris Bourassa
Vice President of Sales & Business Development, Bob George
Special Guest Hours:
Friday starting at 10am
Saturday starting at 9am
Other Offerings from Buck and SMKW at the Event
Smoky Mountain Knife Works and Buck Knives will also make the following knives available at the event:
BU11509
Special Event Buck 119 with Red and Black Swirl Handles (only 90 pieces made) only $79.99
BU1197FP
First Production Run Buck 110 Autos
Serialized First Production Run of Buck's new 110 Automatic only of $139.99
Also, we'll have a table of Buck collectible knives and antiques you just won't find anywhere else!
Not sure how to get here?
We're just two miles off of I-40 Exit 407 on the right (you can't miss the big blue roof).
Located at the gateway of the Smoky Mountains National Park, Smoky Mountain Knife Works is the "World's largest knife showplace." More than 1.5 million guests visit our 108,000 square foot knife showroom in Sevierville, TN, and millions more receive a monthly print catalog and shop at smkw.com. Our current showroom hours are 9am – 9pm daily and we are located at 2320 Winfield Dunn Parkway, Sevierville, Tennessee 37876. Here's a handy google map for you.
Victorinox American Flag Pocket Tools
Hey, it's the Fourth of July and what better way to celebrate than with something patriotic? The Victorinox American Flag Pocket Tools seem to satisfy my hunt perfectly. These models are like any other Victorinox, but feature unique American flag scales. You can get these patriotic scales on the Classic SD or Super Tinker models. Both are fantastic little knives with plenty of the features that Victorinox is known for. If you have forgotten the features on these two models, here they are.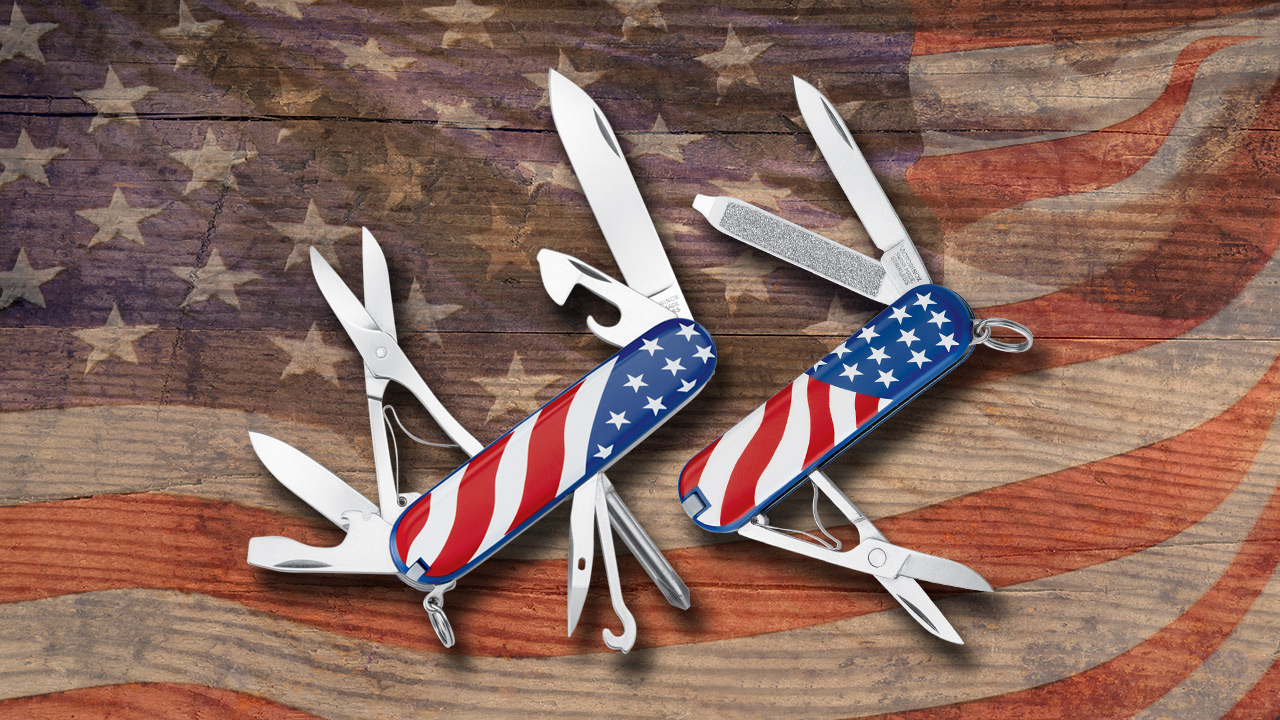 The Victorinox Classic SD Details
Small blade
Nail file/ screwdriver tip
Scissors
Toothpick and Tweezers
2 1/4″ closed
The Victorinox Super Tinker Details
Large and Small blades
Can opener /Small screwdriver
Bottle opener/ Large screwdriver/ Wire stripper
Scissors
Hook, Philips head, and Reamer/Sewing eye
Tweezers and Toothpick
3 1/2″ closed
You can find these Victorinox American Flag Pocket Tools  at Smoky Mountain Knife Works (smkw.com). The Classic SD is going for $17.99 and the Super Tinker for $33.99, just click the buttons below to find them.

The Rough Rider Cowboy Cutter gets the job done
Guys, this knife is such an individual. It makes perfect sense that a knife designer didn't have anything to do with its creation. The Rough Rider Cowboy Cutter was designed with the help of an SMKW customer who is a bonafide Cowboy. Rough Rider gave this knife a unique blade and a traditional appearance that looks like it's fresh from the ranch.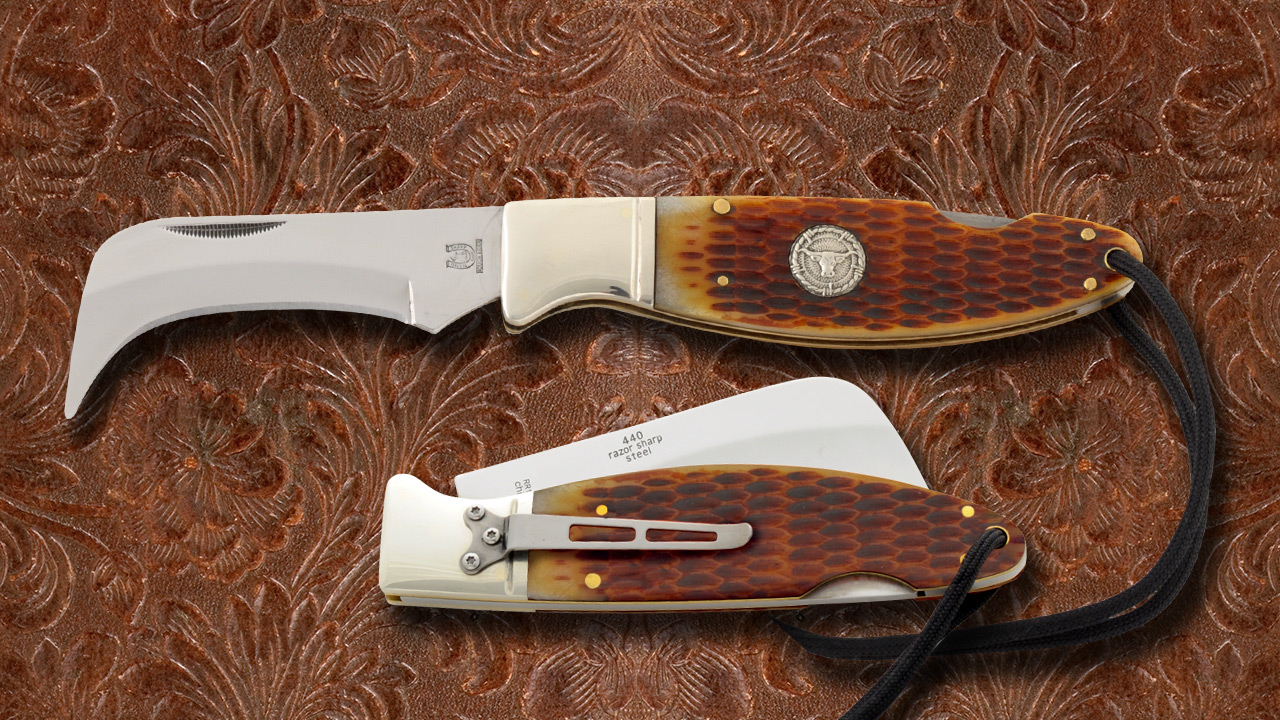 The blade of the Cowboy Cutter has a standard 440 stainless blade with a lockback mechanism, but the real story here is the blade's unique shape and purpose. The Cowboy Cutter has a hawkbill-shaped locking blade with an exaggerated tip. The Cowboy Cutter cuts bailing twine from bails of hay with minimal effort. Rough Rider includes a pocket clip and adjustable lanyard on this workingman's knife. As you're putting out hay, you can cinch the lanyard up to your wrist with the bead lock and just let it dangle as you work.
The Cowboy Cutter features traditional amber jigged bone handles. These genuine bone handles carry unique imperfections from knife to  knife. The bone is beautiful and flanked by a single nickel silver bolster.
The Cowboy Cutter Details
440 Stainless steel blade
Unique Hawkbill/Bail Cutter Design
Lockback
Genuine bone handles
Pocket clip and Lanyard
You can find the Rough Rider Cowboy Cutter at Smoky Mountain Knife Works (smkw.com) for $12.99. Just click the button below.

The CRKT Pilar is a tough knife for a tight budget
CRKT has collaborated with designer Jesper Voxnaes to create the Pilar. Named after Ernest Hemingway's beloved boat, the Pilar was the 38ft vessel he used to monitor German U-boats in Caribbean waters during WWII. Hemingway was a world-famous author, WWI combat vet, big-game hunter, sailor, and fisherman – truly a jack of all trades. The CRKT Pilar gets its name from being the same – a jack of all trades.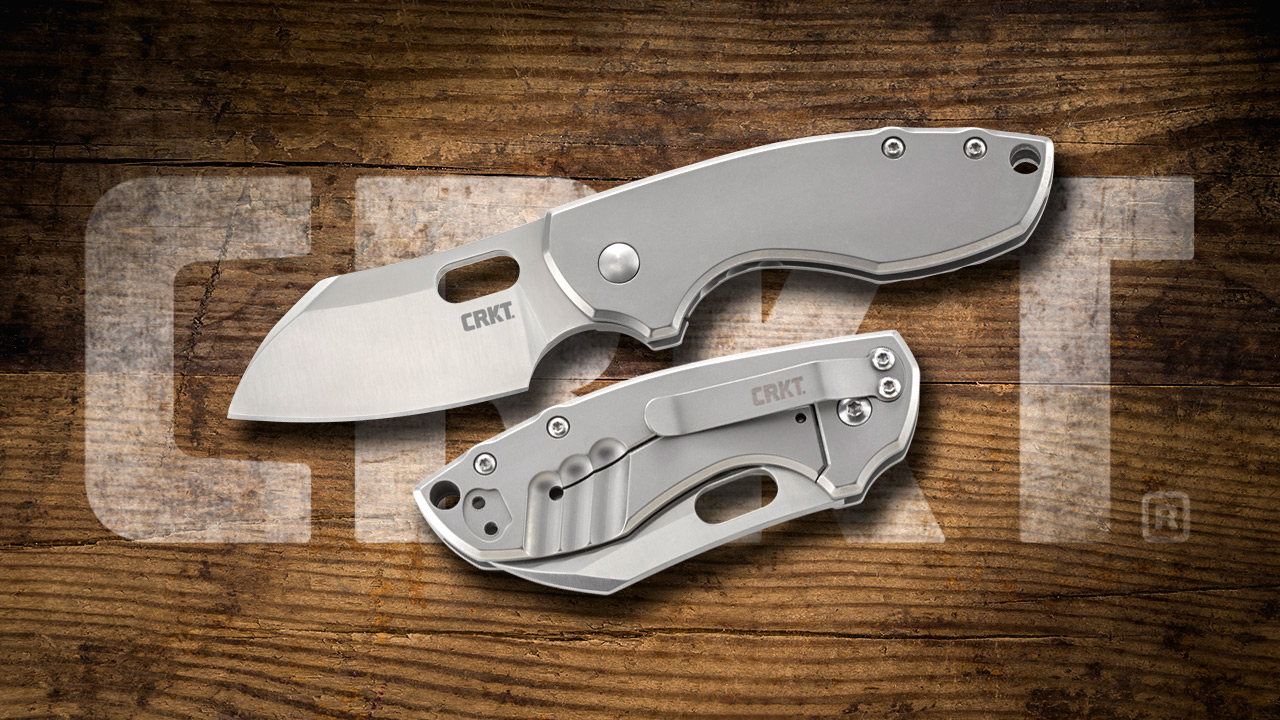 The Pilar is outfitted with a versatile modified wharncliffe blade. The wharncliffe is fantastic for cutting when you don't want to worry about controlling the tip of your blade during a cut, and you need to deliver full power to the end of the blade. This really opens up the versatility of the Pilar, making it great at most tasks one would encounter. The blade is made of durable 8Cr13MoV stainless steel which is commonly used for work knives like machetes. The Pilar's blade is capable of finesse cutting when delicacy is needed, but also brute force when the going gets tough.
The handles of the Pilar are made from bead blast coated stainless steel. They are built to last and are fantastic in any environment. The handle is rather short (3 1/2″ closed), so CRKT has added grip improving cutouts and a comfortable finger choil. Stainless steel handles can be slick, so it's nice that CRKT added features to make the Pilar effective even when wet. Your knife is only as good as its weakest point, and that's usually the locking mechanism. CRKT went with a stainless steel frame lock, and it's not going to fail (even under punishing use).
The CRKT Pilar Details
8Cr13Mov Stainless steel blade
Bead blast finished SS handle
Framelock design
2 7/16″ blade length
3 1/2″ closed length
Overall, the CRKT Pilar is a workhorse. Its stainless steel construction and machete steel blade make it a formidable ally in any situation. For a knife of this quality, usually that means there's an expensive price tag.  However, that's not the case at Smoky Mountain Knife Works – smkw.com. They are offering the Pilar for a mere $29.99. You can check out the Pilar by clicking the link below. Also their "flash sales" section is always a treat to check out, so don't miss that.

Upcoming Events
July 7-9
Buck Weekend
Smoky Mountain Knife Works
July 14-16
Smith & Wesson
Smoky Mountain Guns & Ammo
July 14-16
SOG Event
Smoky Mountain Knife Works
July 21-23
Taurus Event
Smoky Mountain Guns & Ammo
Follow us on Social Media
If you're not following us on Facebook, Twitter, and Instagram, you're missing out! We use them to quickly alert our customers about events, specials, fun facts, and of course, great giveaways.  Here are the links you need to follow our social media accounts. Click the icons below to find our pages.
facebook.com/SmokyMountainKnifeWorks/
instagram.com/smokymountainknifeworks/
twitter.com/SMKWcom
You might also like