Well, we've just wrapped up another great Buck Weekend, but there's no rest for the weary. We've got SOG Founder, Spencer Frazer coming in this weekend for our big SOG Weekend event. Let's get into it.
SOG Weekend July 14-16, 2017
Don't miss SOG Weekend at the Smoky Mountain Knife Works retail location in Sevierville, TN July 14-16, 2017.  We'll have door prizes, discounts and more! Come meet SOG Founder, Spencer Frazer from 9am – 3pm (EST) on Saturday, July 15, 2017.
Not sure how to get here?
We're just two miles off of I-40 Exit 407 on the right (you can't miss the big blue roof).
Located at the gateway of the Smoky Mountains National Park, Smoky Mountain Knife Works is the "World's largest knife showplace." More than 1.5 million guests visit our 108,000 square foot knife showroom in Sevierville, TN, and millions more receive a monthly print catalog and shop at smkw.com. Our current showroom hours are 9am – 9pm daily and we are located at 2320 Winfield Dunn Parkway, Sevierville, Tennessee 37876. Here's a handy google map for you.
SMKW Exclusive! Northfield 66 Serpentine Stockman with PA Peach Seed Bone Handles!
The Northfield 66 Pattern Serpentine Stockman with Pennsylvania Peach Seed Bone Handles is an SMKW exclusive. This knife was made to be as traditional as possible, and with it's 1095 carbon steel blades and beautiful bone handles will fit perfectly in your pocket or display piece. This pocket knife is a special production run of just 100 pieces, get yours today!
Features: 1095 carbon steel blades. Pennsylvania peach seed bone handles. Brass pins and liners. Nickel silver ringed and pinched bolsters and shield. 2-1//2″ Clip point blade. 2″ Sheep's foot blade. 1-7/8″ Spey blade. Blade widths: 9/16″, 7/16″, 3/8″. Blade thicknesses: 1/16″. 3-1/2″ closed. Made in the USA.
Only $119.99 right now!
What is this funky little blade? The CRKT DAKTYL
If the CRKT DAKTYL looks familiar, that's because it's based on Tim Hitchcock's Hole in One side opener that took the knife world by storm a few years ago.  CRKT tells us, "The Daktyl™ is choosy though. It takes only the best of the previous design, adds the Slide Lock innovation, and reduces the already-minimal part count."  The DAKTYL is now available at SMKW.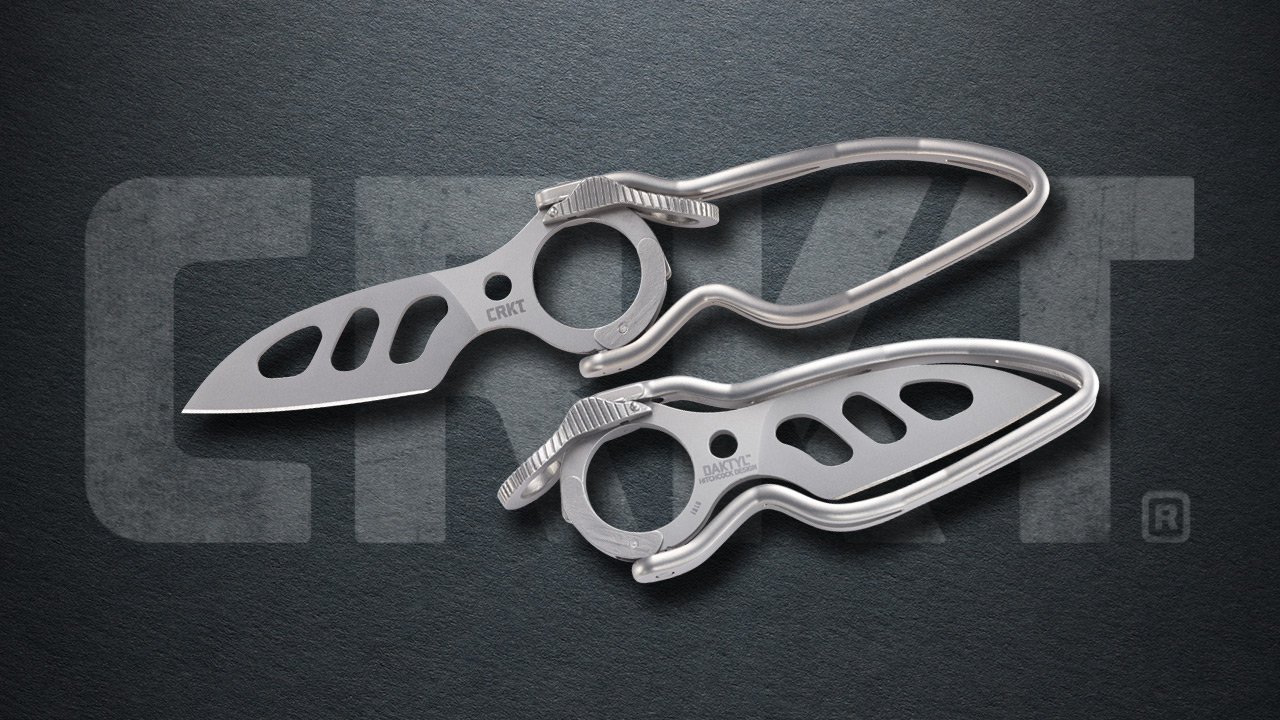 CRKT says, "The DAKTYL is seriously bare bones; we're talking phalanges here. It's named after a finger for a reason: set it in motion with one quick action and watch the jaws drop." We couldn't agree more.
There doesn't look like there's anything to this knife, but it opens effortlessly with just a bit of practice. The mechanism allows you to flip the knife around until it locks into place with just a flick of the wrist. There isn't another product on the market quite like the DAKTYL. It's a conversation piece for sure.
The DAKTYL is definitely bare bones. It features a skeletonized frame that is impressively ergonomic. It's made of stainless steel and feels very firm and durable in hand. In our meeting with CRKT, the DAKTYL feels very solid in hand, especially for a skeletonized knife.
The blade is a Wharncliffe made of 420J2 stainless steel. 420J2 isn't the most common steel, but some quick research will tell you that it's a decent steel. It holds an edge fairly well and isn't hard to sharpen at all. This design and steel combo would make for a good EDC knife.
To open the blade, simply press down on the lock and rotate it with your thumb to the open position. When the blade is open it will lock into place automatically. To close it, simply press down again, and you can use momentum to snap it shut by flicking your wrist. It's actually super simple and very satisfying to play with.
Click any thumbnail below to launch a slide show of larger images.
The DAKTYL Details
420J2 Stainless steel blade
Wharncliffe
Hole in One Mechanism
Steel handle
3 1/16″ Blade length
4 7/16″ Closed length
CRKT prides themselves on being innovative, and I'd say they have really accomplished that with the DAKTYL. I found them available at Smoky Mountain Knife Work's website, smkw.com. You can order it there for $39.99, simply click the button below for a link to that page.

Tim Hitchcock was also responsible for the CRKT Snap Lock – another innovative knife from CRKT.
Rough Rider offers High Carbon Steel Series
I like Rough Rider, but I honestly hate stainless steel, and I know I'm not alone. The new Rough Rider High Carbon Steel pocketknives are just what I've been looking for. These knives use a titanium coated high carbon steel instead of their standard 440A stainless, and the price didn't increase on them one bit. The four patterns in this series run between $12.99 and $14.99.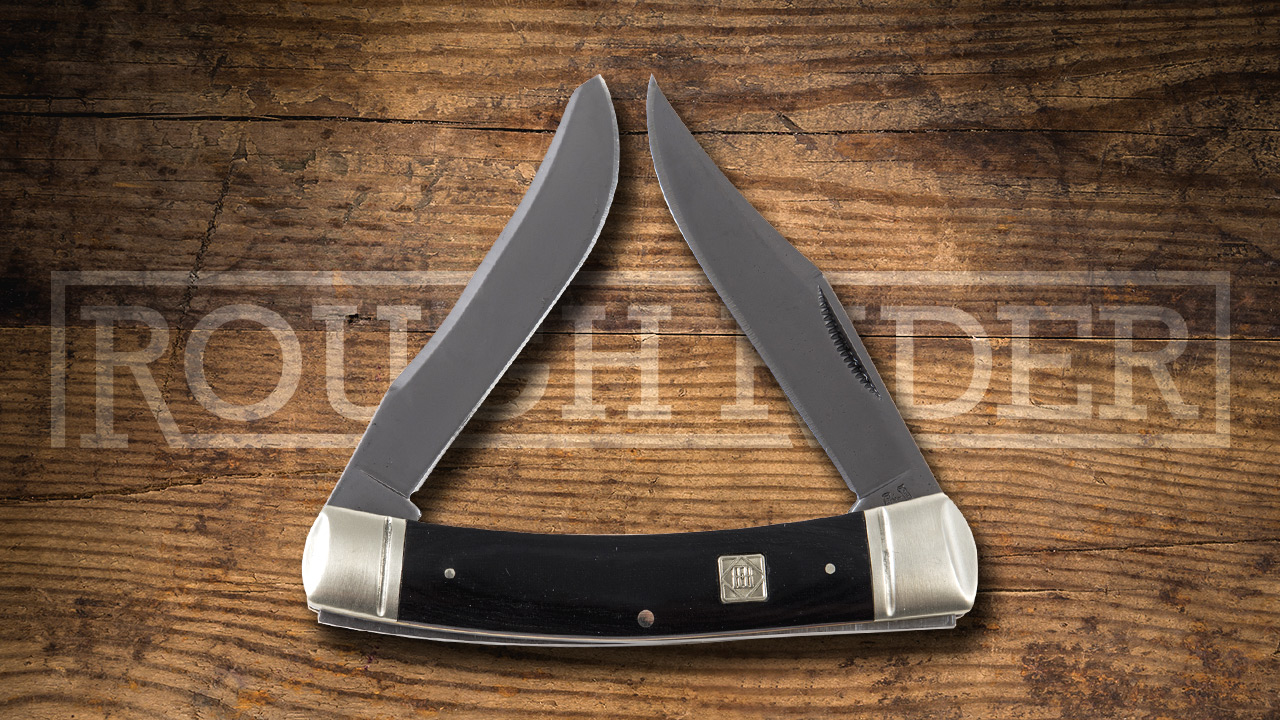 As I mentioned before, there are four patterns available in the High Carbon Steel Series: trapper, canoe, moose, and bow trapper. The real story here is the Bow Trapper.
What's a Bow Trapper?
It's a curved version of a trapper where the back-springs curve out like an archery bow. That allows a trapper (of standard length) to house wider, more hefty blades than a standard trapper. It comes with a beaded lanyard and is sure to gain the attention of enthusiasts who have a keen eye.
The handles in the High Carbon Steel Series are an attractive black G10 that look great with the dark finish of the titanium coating. The G10 is surrounded by nickel silver bolsters that have a unique ring/pinched design. These knives might look like a standard bland pocket knife from a distance, but the closer you look, the more details begin to stand out.
These knives all have fantastic fit and finish on them. While I wish they would have left the titanium coating off- so my blade can patina, I do have to admit they don't look bad.
The High Carbon Steel Series Details
High carbon steel blades
Titanium protective coating
G10 handle material
Nickel silver bolsters
4 patterns
For someone like me who likes Rough Rider, but hates stainless steel, the Rough Rider High Carbon Steel Series are a perfect fit. They aren't the most fancy or visually stunning, but they have some of the best steel in Rough Rider's lineup. You can simply click the button below to check them out and see what you think.

The Helle Temagami is a well-rounded outdoors knife
Helle has been making quality, Norwegian bushcrafting knives since the 1930's.  With almost 90 years of success, you'd assume they know a thing or two about a good bushcrafting knife. Les Stroud (of Survivor Man fame) partnered with Helle to design the Helle Temagami. It's a great example of classic design mixed with modern features, and it's worth checking out.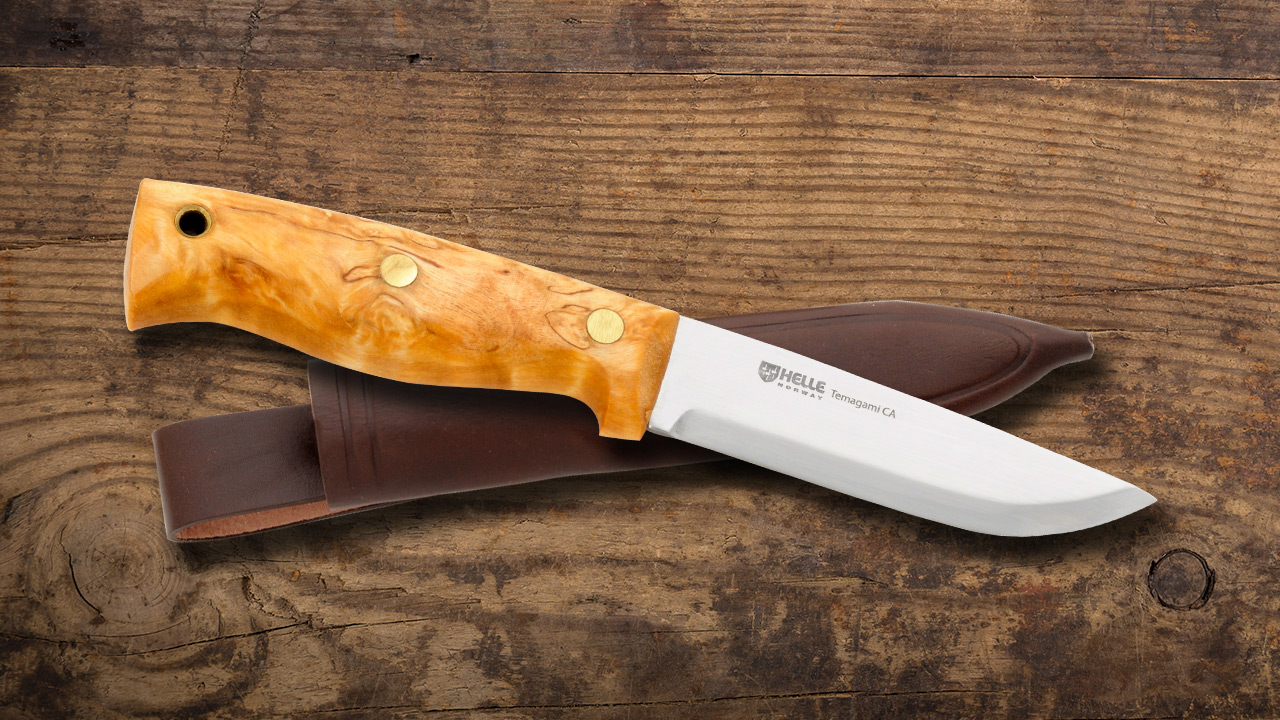 TheTemagami has a very unique blade for an outdoors knife. It has a high carbon blade like most other companies, but Helle protects their blade differently. Instead of having a protective powder coating, they decided to triple-laminate their blade. This keeps the blade free of corrosion and other damage while leaving the blade appearing natural. The cutting edge is still exposed so that it's easy to sharpen and operate with precision.
The blade on the Helle Temagami is more than just fancy lamination. It actually has ideal dimensions for its intended purposes. The Temagami features a 4 3/8″ drop point that makes it versatile in the outdoors. A 4 3/8″ blade isn't too big for around the campfire tasks, but isn't too small that it couldn't baton wood in a pinch.
The handle of the Temagami is another interesting conversation piece. It features a beautiful portion of curly birch wood that's as much art as it is practical. Helle designed the handle to be a solid piece of wood that only exposes the tang on the spine and at the pommel. Winters are cold in Norway, so the handle design keeps your fingers from contacting any metal surface. The curly birch also is contoured for a firm grip and features a small finger guard for safety. The handle is held to the tang by brass rivets that just complete the classic bushcrafting appearance of the Temagami.
Helle has kept their knives traditional in appearance but very functional. The sheath that comes with the Temagami is no different. It comes with a traditional genuine leather sheath that attaches via belt loop. The leather covers 90% of the knife so only the end of the wooden handle is exposed. This style is traditional to Norwegian knives and is effective at keeping the handle protected and blade secure.
The Helle Temagami Details
Triple Laminated Carbon Blade
Curly Birch Handle
4 3/8″ Blade length
9″ Overall length
Leather sheath
Made in Norway
The Helle Temagami is an outdoor companion that may look traditional, but has some incredibly modern features. Helle has called on their years of experience to make a knife that works in any temperature or climate. It's not too small to baton or too big to work small game. The Temagami floats around $179.99 online, and is available at Smoky Mountain Knife Works (smkw.com). If you are looking for a well-rounded outdoors knife, go ahead and click the button below.

Upcoming Events
July 14-16
Smith & Wesson
Smoky Mountain Guns & Ammo
July 14-16
SOG Event
Smoky Mountain Knife Works
July 21-23
Taurus Event
Smoky Mountain Guns & Ammo
Follow us on Social Media
If you're not following us on Facebook, Twitter, and Instagram, you're missing out! We use them to quickly alert our customers about events, specials, fun facts, and of course, great giveaways.  Here are the links you need to follow our social media accounts. Click the icons below to find our pages.
facebook.com/SmokyMountainKnifeWorks/
instagram.com/smokymountainknifeworks/
twitter.com/SMKWcom
You might also like