Hey, folks. National Knife Day is just about a week away! It's the High Holiday of the knife year, and starting at 8am (EST) on Thursday, August 24th, we're dropping some unbelievable Flash Sales and giving away over $2,500 worth of top brand products! Follow all the action all day long on SMKW's social media pages!
If you don't want to miss a thing on National Knife Day, follow us on Facebook, Twitter, and Instagram right now, and then make sure you're keeping up online August 24th! Click the links below to follow us on social media.
Don't miss the Daily Flash Sales!
Now, if you're not keeping up with our Daily Flash Sales, then you're probably missing out. The prices are simply outstanding and sometimes hard to believe. Each morning at 9am, we put up to eight items onto our Flash Sales page, and the prices are good for 24 hours (til 9am the next morning). If you love knives and get in the habit of checking that page every day, you will definitely find something that strikes your fancy. Your wallet will thank you. I promise.
The Rough Rider Tailgate Trapper, your best friend at this years tailgates
The Rough Rider Tailgate Trapper is exactly what is sounds like. It's a traditional Trapper patterned pocketknife that trades the spay blade for a caplifter/screwdriver blade.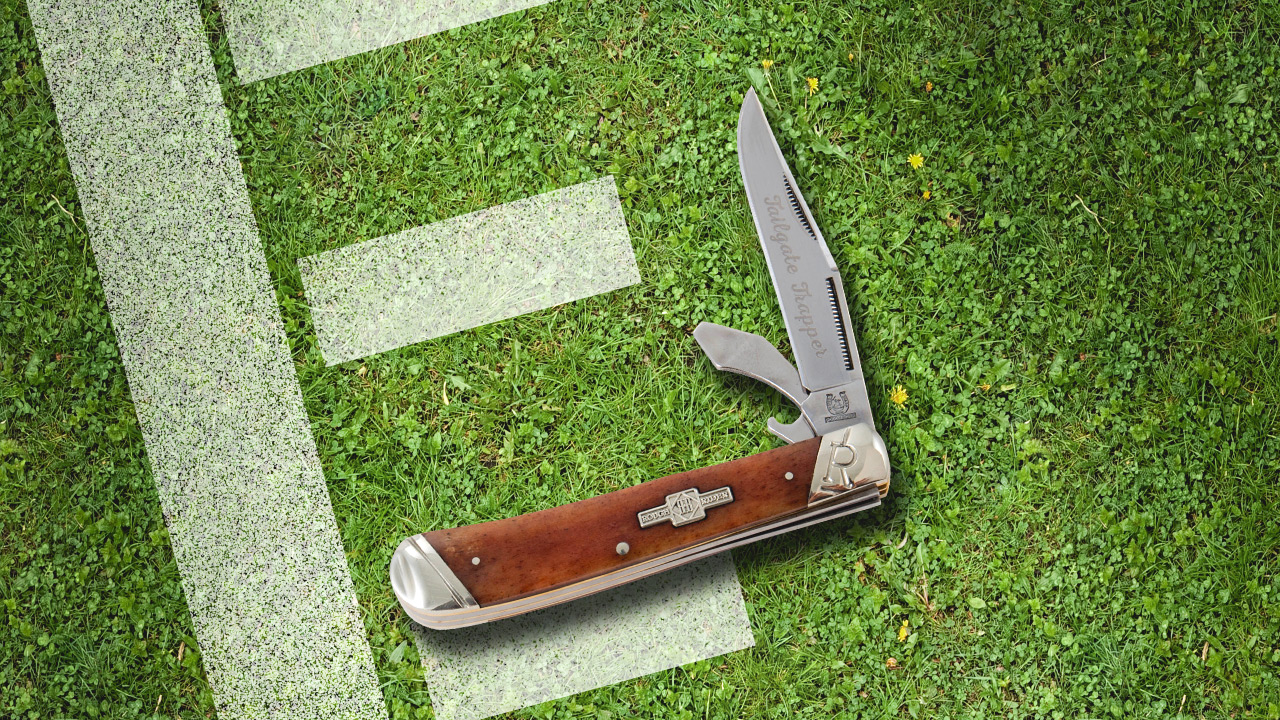 Tailgating is one time you don't want to be without a knife. There are no limits to how many various packages that need to be opened to keep the party running smoothly, but food is only half of the battle when it comes to having a successful tailgate. The other half is the drinks! So why sideline your knife and use a bottle opener, when you can get a knife to do both?
The Rough Rider Tailgate Trapper comes with a 440A clip point blade. This blade has a mirror finish and reverse frosted embellishment that reads "Tailgate Trapper."  The difference between this trapper and others is that this model doesn't have a spay blade. The secondary blade on the Rough Rider Tailgate Trapper is actually a bottle opener. The bottle opener is also stainless and makes this knife awfully convenient around a tailgate cooler.
The handles of the Rough Rider Tailgate Trapper are made of authentic bone. Rough Rider outfitted this knife with a tasteful smooth amber bone handle (almost the honey amber color of a frosty cold one, if you ask me). The bone is flanked by two nickel silver bolsters that have a traditional ringed and pinched design. This handle is only 4 1/2″ so it's a lot more convenient than carrying a standalone bottle opener – and twice as cool in my opinion.
The Tailgate Trapper Details
440A Stainless steel blade
Bottle Opener secondary blade
Smooth Amber Bone handle
Nickel Silver accents
3 1/8″ Clip point blade
4 1/8″ Closed length
The Rough Rider Tailgate Trapper is the perfect accessory for this year's tailgate parties. This knife retails for $14.99, which places it in just about everyone's budget. With a price like that, you will certainly be able to find one around my tailgate this year. Be sure to check this knife out before the sporting season kicks off this year. You can find this knife by simply clicking the button below.

TOPS Knives releases Grandpa's Ax
TOPS President, Leo Espinoza's father, Lorenzo Espinoza Sr. designed the TOPS Grandpa's Ax during a design challenge the company held among TOPS employees in 2016. The challenge for employees: design the best tomahawk/hatchet/ax. The entry presented by Espinoza Sr. is an "excellent mix of size, weight, and chopping capability for a small hatchet," TOPS says. "Weighing just under 1.5lbs, this is a tool that can be easily carried long distances, making it an excellent tool for backpackers and minimalist campers," TOPS says.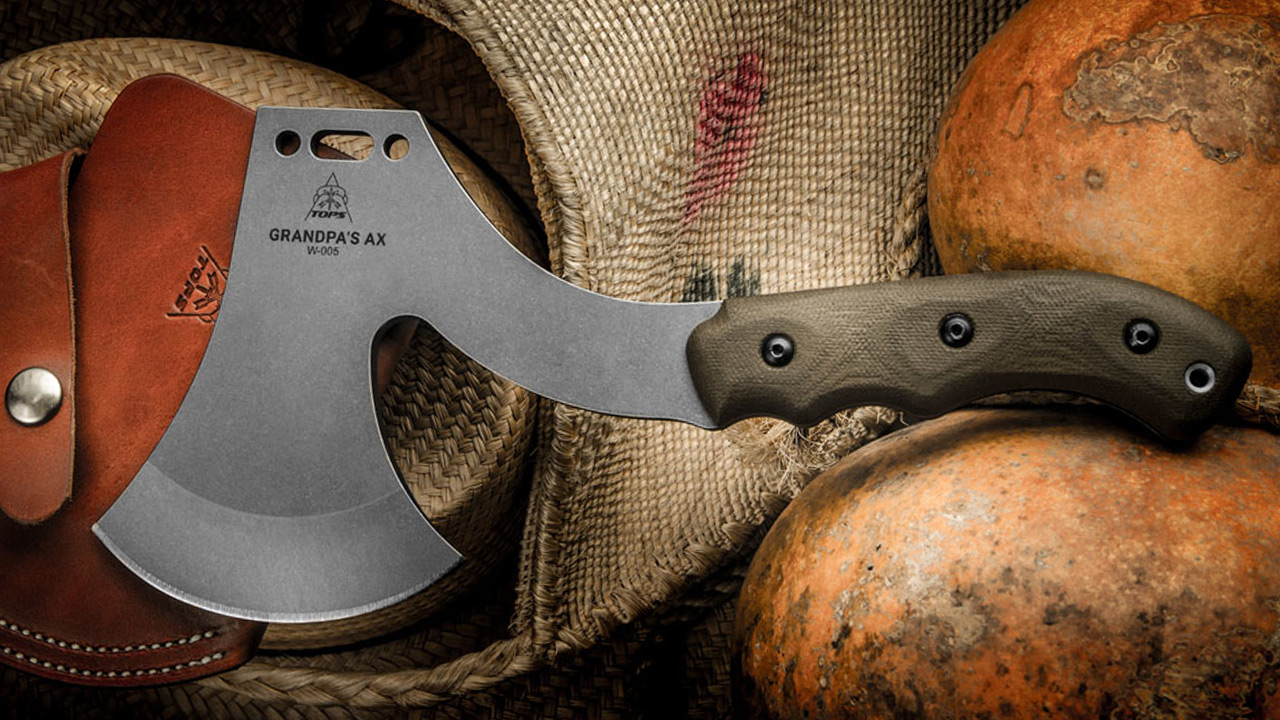 As the main designer for TOPS knives, Leo Espinoza approves all outside designers with which TOPS chooses to work. TOPS tells us, "You know what they say: like father like son."
At just 11″ overall, the TOPS Grandpa's Ax packs a punch in a fairly small package. The 4″, quarter-inch, 1095 carbon steel blade has a 4″ cutting edge and a tumble finish. TOPS uses durable green canvas micarta for grip on the handle and packs the ax with a brown leather sheath.
The TOPS Grandpa's Ax Details
Overall Length: 11.0"
Blade Length: 4.0"
Cutting Edge: 4.0"
Thickness: 0.25"
Steel: 1095 RC 56-58
Finish: Tumble Finish
Handle Material: Green Canvas Micarta
Knife Weight: 22.7oz
Weight w/ Sheath: 27.1oz
Sheath Material: Brown Leather
Sheath Clip: Belt loop
Designer: Lorenzo Espinoza Sr.
Overall, we like the look and feel of the TOPS Grandpa's Ax. It's a little different from most of the TOPS line, but it does seem to fit in the mix quite well. The MSRP for this product is listed at $200, but we've got this ax at Smoky Mountain Knife Works (smkw.com) for only $124.99. You can click the button below to see it yourself.

Collaboration yields heavy duty field knife: Case Winkler Skinners
Hunting season is right around the corner and the Case Winkler Skinners are right on time. These new skinners come from a collaboration between Daniel Winkler and Kevin Holland and Case. They drew heavily from their experience in the Army Special Forces and Navy Seals. The result has been three beautiful Case knives that will be at home in a display case or in the field.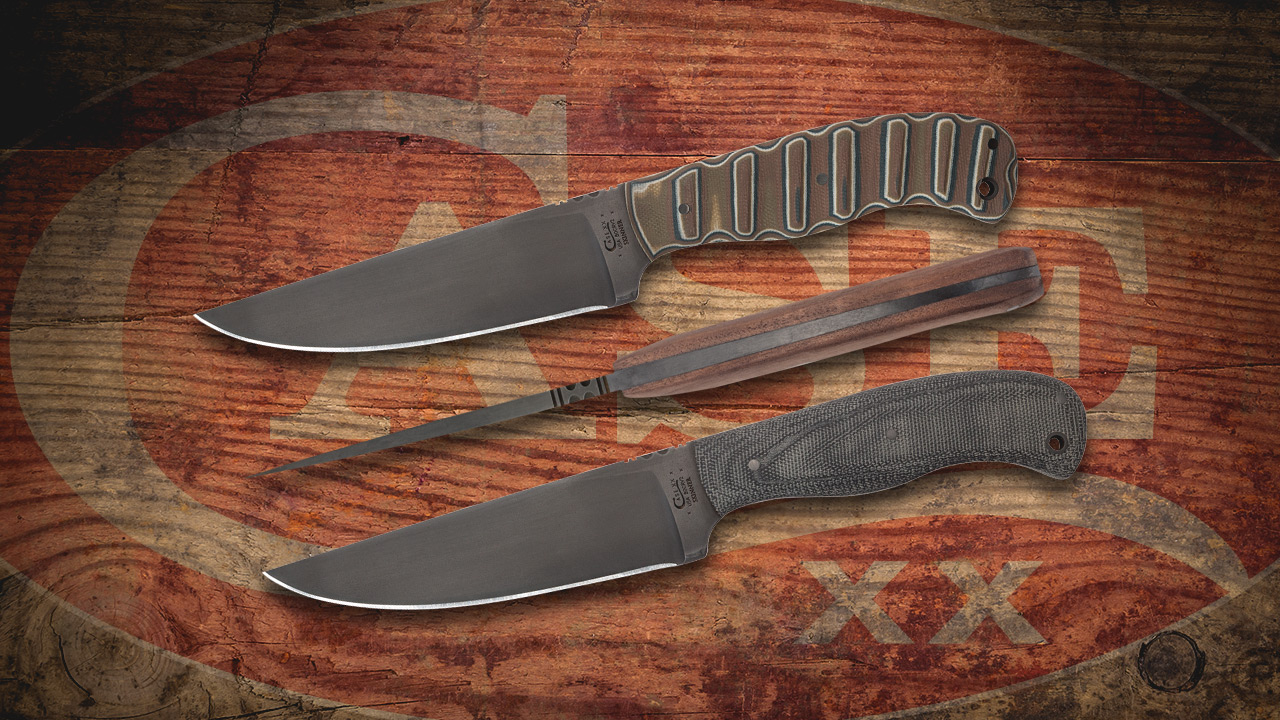 All Case Winkler Skinners feature 3/16″ thick, 80CrV2 steel. It's a unique steel that isn't very common around the market and has interesting characteristics. 80CrV2 isn't stainless, but has a decent amount of corrosion resistance from an elevated level of chromium. It possesses many of the cutting characteristics of tool steel and closely resembles 1080/1095 carbon steel. The blade is fairly easy to sharpen and won't dull very easily from heavy use. This does mean, however, that the blade can rust and proper care is required, but it really isn't too daunting of a task since Case coated the blade with a protective Caswell finish. The finish helps prevent surface rust, but Case includes a care card that tells you more about the proper maintenance and storage of the knife.
There are three different handle materials available at different price points. You can get a G-10 multi-cam design, a black cloth laminate design, or a smooth walnut design. These handles all cover the full tang of the knife and have an ergonomic shape to them. The handles don't include any identifying marks, but the blades include a special Case tang stamp, and each comes with a leather sheath.
The Case Winkler Skinners Details
3/16″ 80CrV2 steel blades
Special tang stamp
Full tang
G-10, Black Cloth Laminate, or Smooth Walnut handles
Leather sheath included
Made in the U.S.A.
The Case Winkler Skinners are a pleasant change up from the traditional hunting models. Winkler Knives crafts the blade and handle materials, and Case manufactures the final product. Every knife features Winkler's high-end, modern materials and passes Case's strict quality control measures. Hunters and collectors alike will treasure the Case Winkler Skinners for years to come.
They retail the G-10 model for $310.00, the black canvas laminate for $295.00, and the smooth walnut for $295.00. You can find all three of these models by simply clicking the button below.

Upcoming Events
August 24
National Knife Day
A Massive Sales and Giveaway Event online at smkw.com
October 20-22
SMKW Rep Weekend
Smoky Mountain Knife Works
November 24
Black Friday
Smoky Mountain Knife Works & smkw.com
Follow us on Social Media
If you're not following us on Facebook, Twitter, and Instagram, you're missing out! We use them to quickly alert our customers about events, specials, fun facts, and of course, great giveaways.  Here are the links you need to follow our social media accounts. Click the icons below to find our pages.
facebook.com/SmokyMountainKnifeWorks/
instagram.com/smokymountainknifeworks/
twitter.com/SMKWcom
You might also like