Wow, we had an absolute blast last Thursday on National Knife Day. We had sales all day long and gave away 24 top branded items worth nearly $3,000. We just wanted to say thanks to each and every one of you who tuned in and stuck with us all day long on social media. It was a blast and we appreciate you.
Gerber Vital Big Game Folder, essential for the hunting season?
The Gerber Vital Big Game Folder provides hunters with an interchangeable blade knife system, so as long as you have backup blades in the sheath, you've got a sharp hunting knife in the field. Interchangeable blade systems are increasing in popularity with hunters, and with a $49.99 price tag, the Gerber Vital Big Game Folder retails just might be an essential part of your gear this hunting season.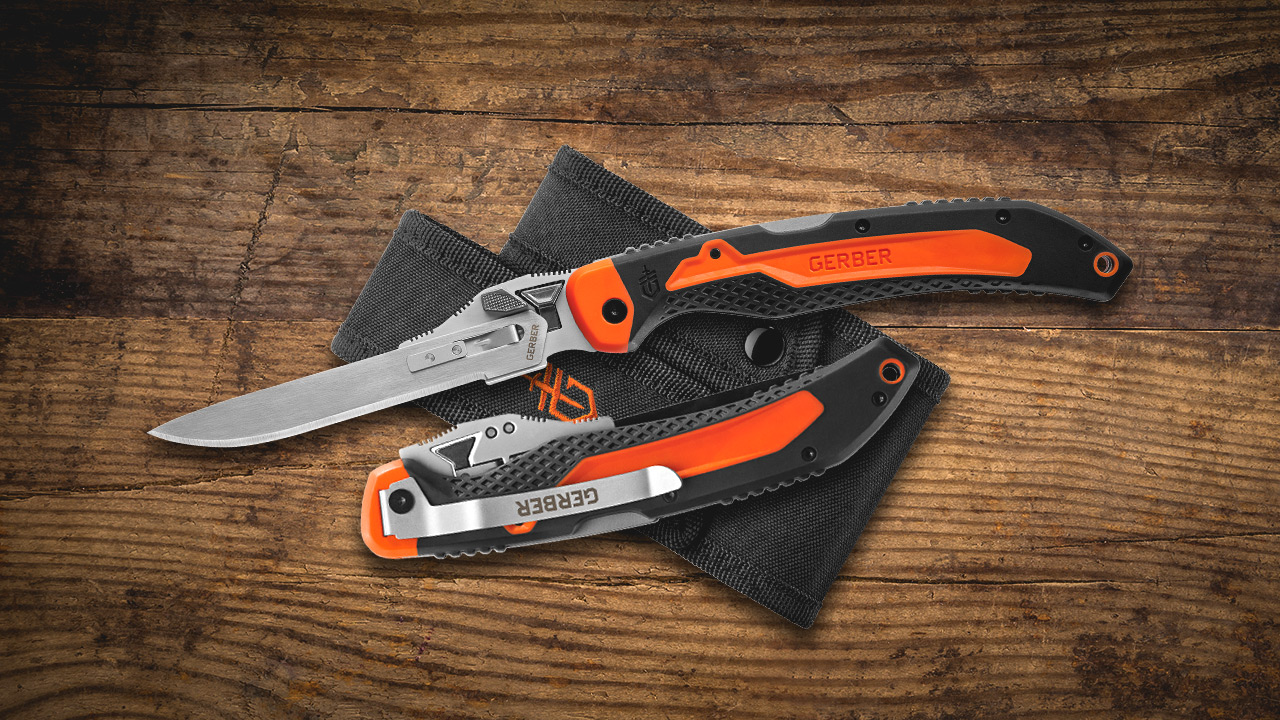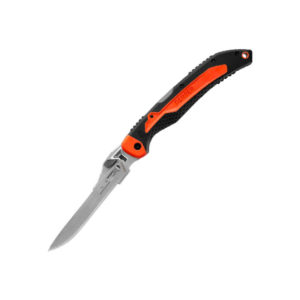 The Gerber Vital Big Game Folder features the Split Sec Tech Blade System. This system allows you to easily change out a dulled blade for a freshly sharpened blade in seconds. With a standard knife, if the blade goes dull you then pause, drag out your sharpener, clean the knife, sharpen it, and continue. That doesn't happen with an interchangeable blade system. You just swap your blades and leave the sharpening for another time.
The knife comes with five sharpened and ready to go 420J2 stainless steel blades. They have a wonderful corrosion resistance and retain their edge well.  You keep the spare bladesin a small plastic container that fits into a nylon belt sheath. If you opt to buy the spare blade kit ($19.99), you'll get a separate heavy duty blade holder that fits in your sheath.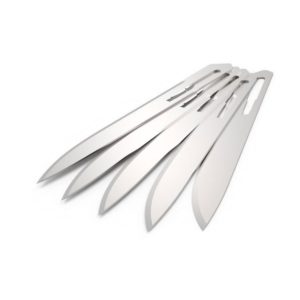 Changing blades is simple. Simply press the button at the base of the blade, and it will slide out. Take your new blade and slide it into place until you hear the lock click. The design is quick enough to be efficient, yet simple enough to be safe.
This knife has a black rubber handle with plastic inlay. The bright orange colors of the plastic make it easy to see if dropped. The handle's molded grip pattern and spine and belly jimping improve grip. For a standard lockback, this handle looks modern and complements the innovation of the interchangeable blade system itself.
The Gerber Vital Big Game Folder Details
x5 420J2 blades included
Black rubber handle with plastic inlay
Spare blade case included
Lockback design
Split Sec Tech Blade System
Spare blades available with upgraded carry case
4 15/16″ Blades
11 1/8″ Overall length
This Gerber Vital Big Game Folder could be an essential for you this hunting season. Its affordable price mixed and blade system make it as valuable as having five knives in the field. Click the button below to find it.

The new ESEE Camp-Lore PR4 ready for order!
As the knife community patiently awaits the ESEE Camp-Lore Pr4, We've stepped up and made it available for pre-order. The PR4 is Patrick Rollins take on the classic Horace Kephart design. If you're a bushcrafting enthusiast, this is sure to be a must have for your next adventure.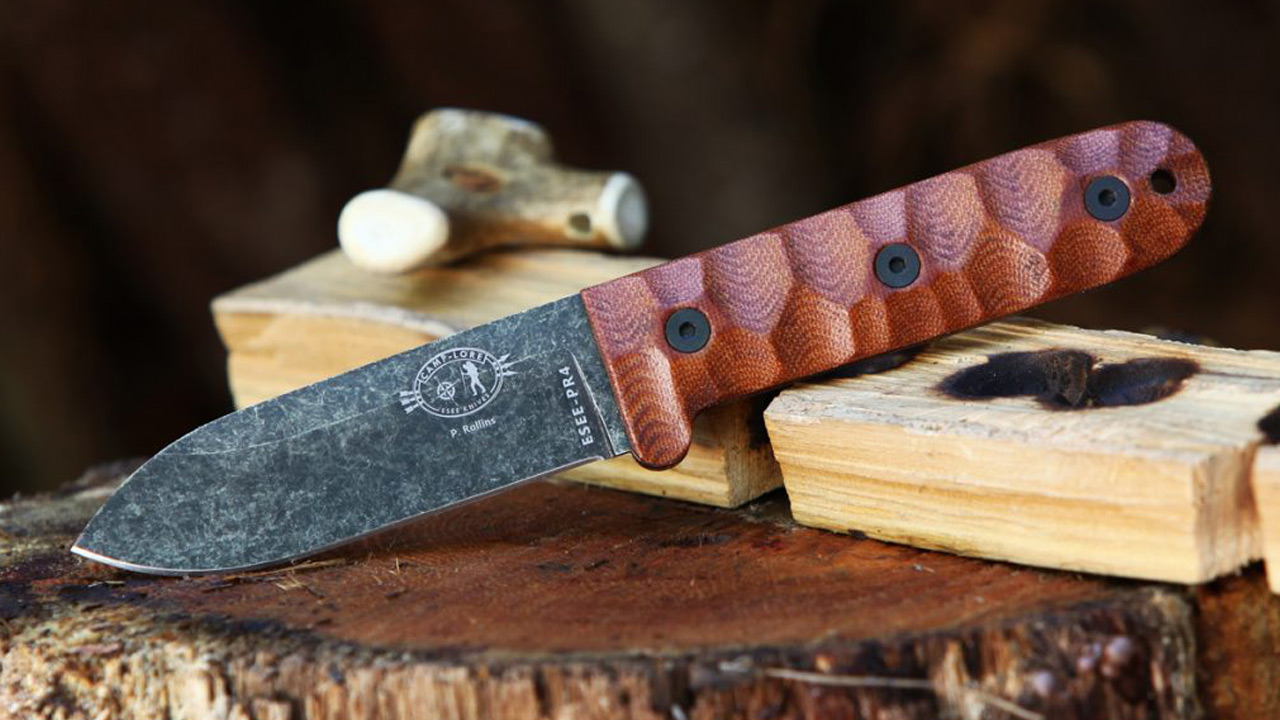 Just in case you haven't heard about the ESEE Camp-Lore PR4, let me take you to class really quick. The PR4 has the classic rounded Kephart blade. The blade isn't the most beautiful thing out there, but it's all practical. ESEE makes the blade from their strong 1095 carbon steel. It has a tumbled black oxide finish to protect the carbon steel from moisture which leads to rust in the field. The blade is 4.19″ which is large enough to baton wood yet small enough to process small game. The spine has a 90-degree edge for effective use with a ferro rod. This blade is built tough and has the protective layer and spine to be useful in any survival situation.
The handle is just as durable as the blade. ESEE designed the PR4 with sculpted micarta handles. The micarta is lightweight and impervious to damage from the elements. They sculpted the micarta with a strong tread pattern to assist with grip in any condition. Even if you and the knife are covered in mud, grip still wouldn't be a question with the PR4. Three large rivets hold the handles to the full tang, which means there isn't really a weak point in the knife as a whole.
The ESEE Camp-Lore PR4 Details
1095 carbon blade
Drop point with 90-degree spine
Tumbled black oxide finish
Sculpted Micarta handles
 Leather sheath included
8.90″ overall length
4.19″ blade length
6.3oz weight
Made in the USA
Guys, whether you're a fan of bushcrafting or just classic knife design, the new ESEE Camp-Lore PR4 might be for you. This knife can be found on pre-sale in our store. You can snag this contemporary classic for a mere $99.99. That's honestly a steal for a modern version of the most legendary bushcrafting knife ever made. You can pre-order it by simply clicking the link below.

The second Case R.J. McDonald "Impending Challenge" Signature Series Trapper
To honor the talent of renowned wildlife artist R.J. McDonald, Case released the "Impending Challenge" signature series that feature R.J.'s work. This series started in 2016 and is now entering its second year. This year's knife is a trapper that features a unique scene of a buck and doe in the forest. These knives are very collectable and deserve to be on display. If you're a fan of art and cutlery, this may be the knife for you.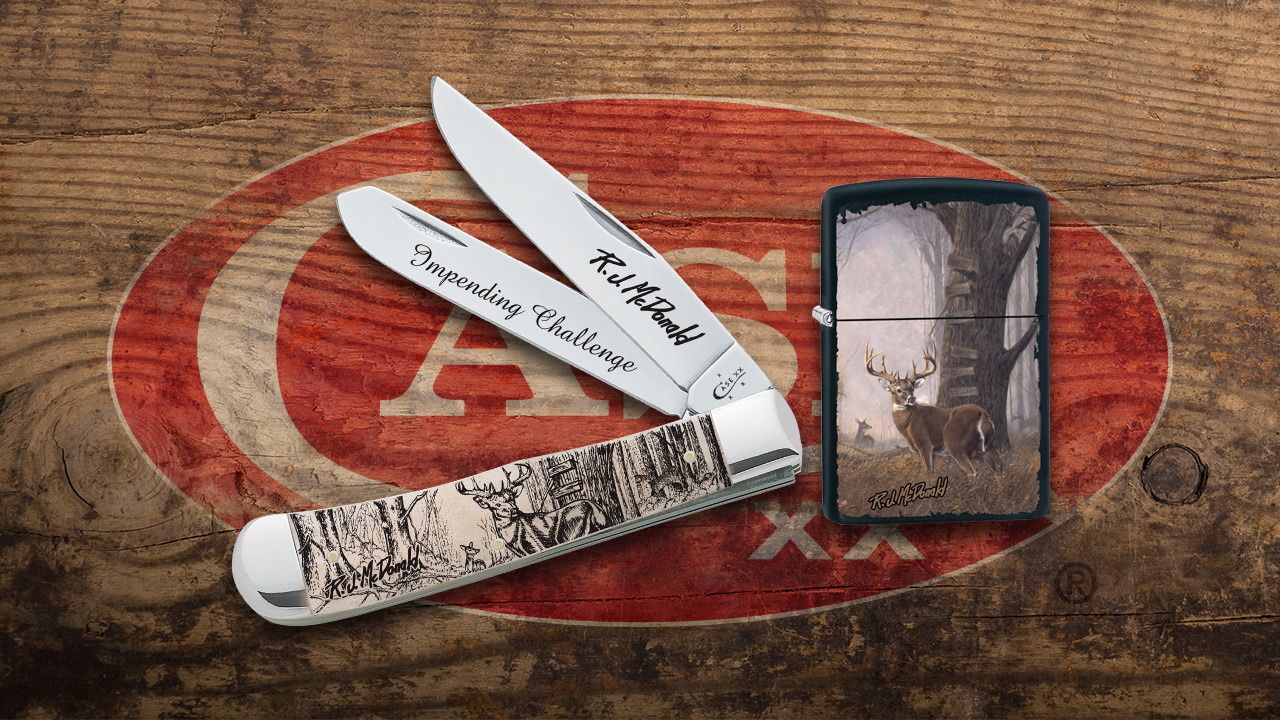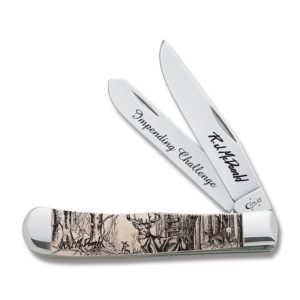 R.J. McDonald's image on this knife shows an intricately detailed scene of a forest thicket. Standing in the center of the image is a buck in the foreground with a doe approaching from the background. Case used cutting edge laser technology to engrave the image into genuine bone handles. To prevent the bone from fracturing or chipping, Case took special care to select a prime cut of bone. To complement the beauty of the handles, Case added polished nickel silver bolsters.
Like most Case tappers, this knife features embellished Tru-Sharp surgical steel blades. The pro to these blades is their superior corrosion resistance. When on display for long periods of time, they don't need to be polished or oiled to stay flawless. The clip point blade is embellished with "R.J. McDonald" and the spey with "Impending Challenge." They are polished to a mirror finish to match the bolsters on the handle.
The "Impending Challenge" Trapper Details
 Tru-Sharp Surgical blades
Genuine bone handles
R.J. McDonald artwork engraved handles
Exclusive blade embellishments
Nickel Silver accents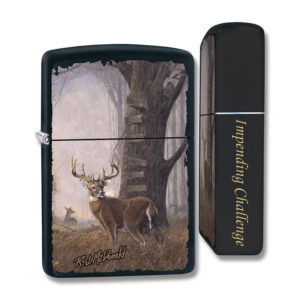 One thing worth mentioning with this knife is the complementing"Impending Challenge" Zippo lighter. The lighter features the colorful original artwork of what's on the knife handle. It's a tasteful piece to put on display with the knife, or just to appreciate as a beautiful Zippo itself.
The Case "Impending Challenge" knife is retailing for $69.99 and the "Impending Challenge" Zippo for $21.99. They are actually on the cover of their latest October catalog. If you don't get a free smkw catalog, you can easily sign up for one on their website.
Do not miss our Daily Flash Sales
Now, if you're not keeping up with our Daily Flash Sales, then you're probably missing out. The prices are simply outstanding and sometimes hard to believe. Each morning at 9am, we put up to eight items onto our Flash Sales page, and the prices are good for 24 hours (til 9am the next morning). If you love knives and get in the habit of checking that page every day, you will definitely find something that strikes your fancy. Your wallet will thank you. I promise.
Upcoming Events
October 20-22
SMKW Rep Weekend
Smoky Mountain Knife Works
November 24
Black Friday
Smoky Mountain Knife Works & smkw.com
Follow us on Social Media
If you're not following us on Facebook, Twitter, and Instagram, you're missing out! We use them to quickly alert our customers about events, specials, fun facts, and of course, great giveaways.  Here are the links you need to follow our social media accounts. Click the icons below to find our pages.
facebook.com/SmokyMountainKnifeWorks/
instagram.com/smokymountainknifeworks/
twitter.com/SMKWcom
You might also like