Summer continues to wind down here in the Smokies, and we're getting ready for Fall. The air will turn crisp (Hallelujah), and the leaves will change color. And while it's always fun to visit the Smoky Mountains, Fall is spectacular here. Plan your trip now and drop by SMKW on your way up.  In the meantime, here's some great things to see on smkw.com or in our store.
Introducing the Benchmade Bugout
Benchmade has announced their second late-summer release this week: the Benchmade Bugout. "The Bugout was designed for the modern outdoor adventurer, incorporating the lightest, best performing materials in an extremely slim, yet ergonomic package," says Hans Albing, product line manager of Benchmade.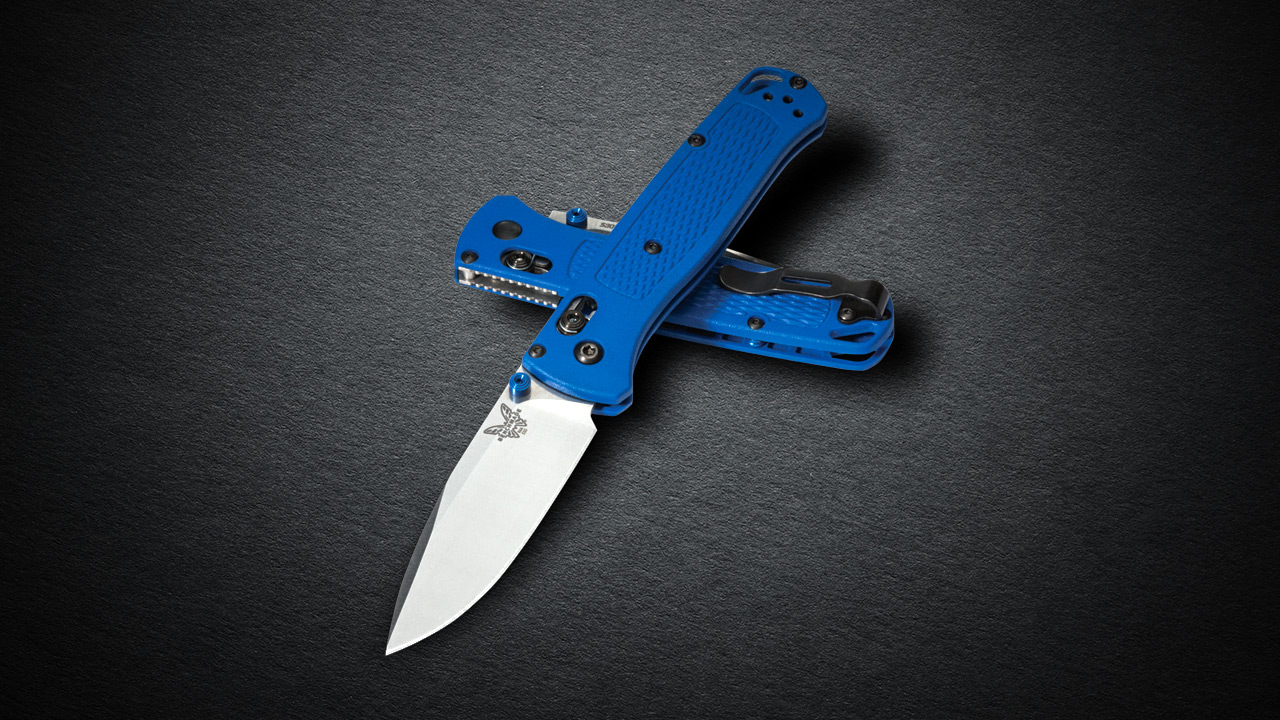 First off, the Bugout features a 3.24″ premium CPM-S30V stainless steel, drop-point blade. This steel is one of Benchmade's top performers and has been a fan favorite in knives like the 560 Freek released earlier this year. Benchmade offers both the plain edge or partially serrated version of the Bugout at the same MSRP.
Secondly, the Bugout's blue Grivory handle features anodized aluminum barrel spacers. It uses the award-winning AXIS lock system, which has become a standard to the company in the past few years. The vibrant blue handle color includes a matching anodized and DLC-coated AXIS bar and thumb studs to match.
The Benchmade Bugout Details
AXIS lock system
Drop-point blade
CPM-S30V Premium steel blade
Blue Grivory handle
3.24″ Blade length
7.46″ Open length
4.22″ Closed length
1.85oz Total weight
Blue Class
The Benchmade Bugout has an impressive blade and a workingman's handle. This knife is built to tackle the toughest obstacles that a blade might come across. Usually, the MSRP isn't the most exciting thing on the new product spec sheet, but the Bugout is reported to be a mere $135 coming into stores. Smoky Mountain Knife Works (smkw.com) has them available for $114.75. If you want to be one of the first to have it, I'd order sooner rather than later. You can find a link to this deal by clicking the button below.

Case Prime Vintage Stag knives showcase natural beauty
It's rare in the knife world that a handle material is perfect in its natural unfinished state. Case introduces a new line of knives called the Prime Vintage Stag Series. These knives feature stag handles that showcase natural beauty in an unrefined state.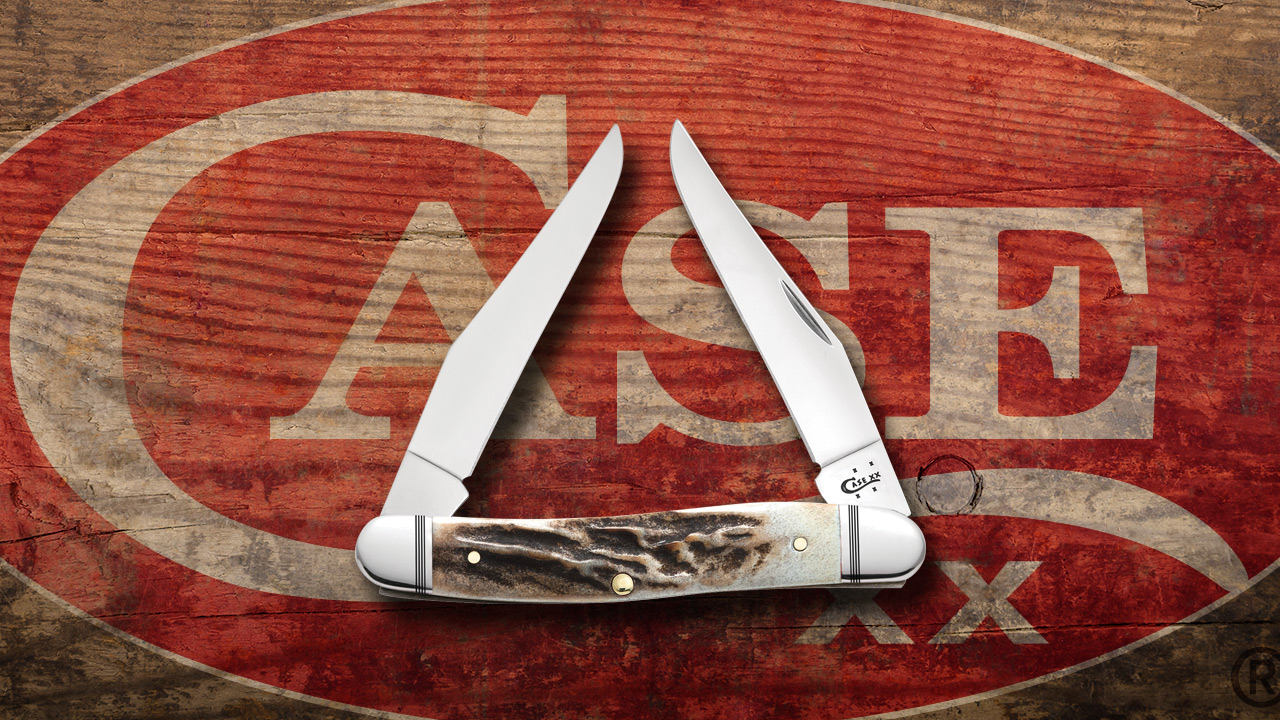 Case makes some of the most beautiful handles on the market, but the Prime Vintage Stag series didn't need much help meeting their high standards. These Genuine bone handles are rich in texture and display natural colors. The stag isn't dyed or burnt to produce any of its shades of brown, and it's not machined to create an artificial texture. The natural appearance with its texture and color makes each knife one-of-a-kind, a unique piece of art.
Case's uses their Tru-Sharp stainless steel for the knives in this series. The blades are polished to a mirror finish that is perfect to display right out of the box. The great thing about Tru-Sharp is that the chromium content will ensure the blade never tarnishes – even when sitting on open display for years. Case chose to use nickel silver to make the shield and fluted bolsters. The Prime Vintage Stag Series has the hardware to be a working man's knife, but beautiful enough to show off.
You can get the Prime Vintage Stag Series in 16 different patterns. Case offers this style in the Small Texas Toothpick, Peanut, Mini Copperhead, Pen Knife, Baby Butterbean, Medium Stockman, Slimline Trapper, Canoe, Mini Trapper, Copperlock, Muskrat, Cheetah, Whittler, Trapper, Medium Congress, and Russlock patterns.  There is a nice mix of classic patterns to match the vintage appearance of the stag, and modern patterns to satisfy the more contemporary collector.
The Prime Vintage Stag Details
Genuine Stag Handles
Tru-Sharp Surgical Steel Blades
Nickel Silver Accents
Fluted Bolsters
16 Popular Patterns
Made in the U.S.A
The Case Prime Vintage Stag series is a wonderful example of a beautiful knife without fancy jigging or machining. The natural beauty of these knives makes them a treasure to enjoy for years to come. This series is available at Smoky Mountain Knife Works (smkw.com). You can find them by simply clicking the button below.

The Buck 112 makeover: Meet the Drop Point Buck 112
If you're a Buck collector, this modified Drop Point Buck 112 is a must have. The Buck 112 has been a fan favorite since the early 1970's. In an exclusive deal with Smoky Mountain Knife Works, Buck offers the new Drop Point Buck 112- a 112 with a makeover, including a drop point blade and four new handle colors.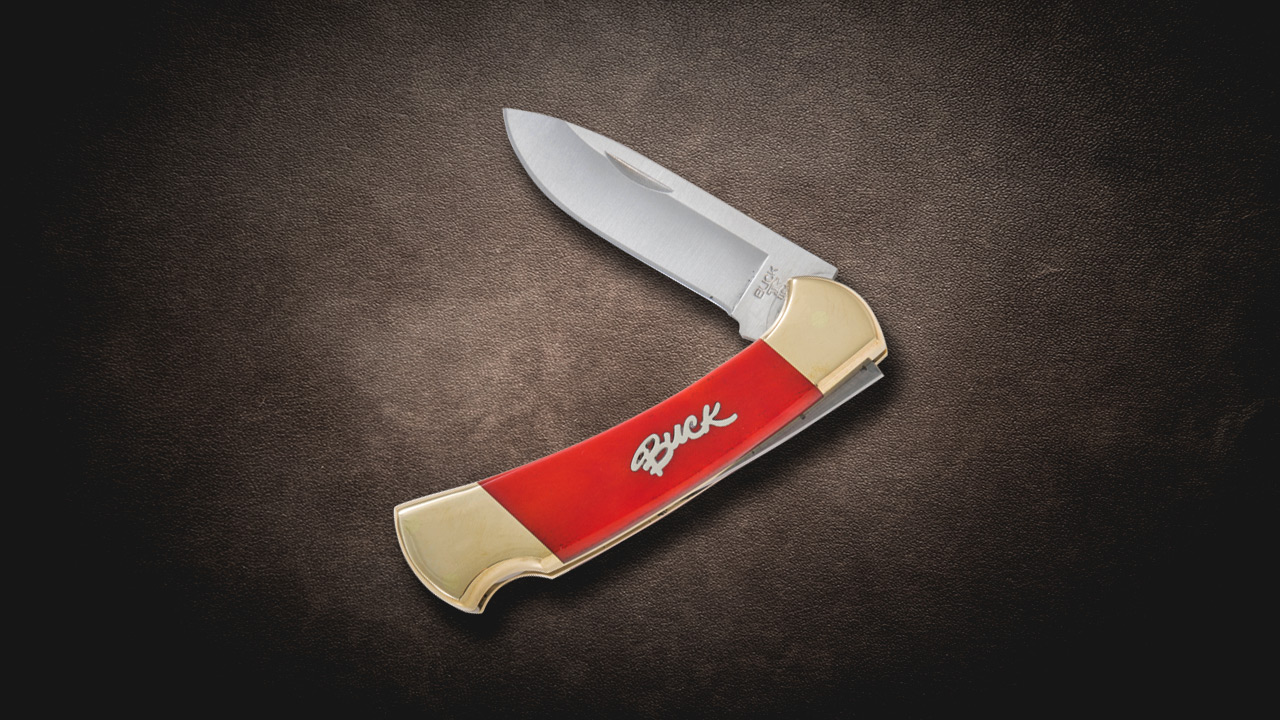 This collector's Drop Point Buck 112 features the same classic 420 high carbon stainless steel as the old models, but Buck replaced the clip point blade with a drop point blade. According to our research, Buck never offered the 112 without its traditional clip point blade until now. That alone makes it a highly collectible knife.
The new handles are genuine smooth bone rather than the wooden handles found on most traditional models. The Drop Point Buck 112's are available in blue, pink, purple, and red. The 112 is still a lockback and features brass accents that are traditional to the 112.
The Drop Point Buck 112 Details
420 High Carbon Stainless blade
Drop point
Lockback
Smooth Bone handle
SMKW Exclusive colors (Blue, Pink, Purple, and Red)
3 1/4″ Blade length
4 1/4″ Closed length
Nylon Sheath included
Made in the U.S.A.
The Drop Point Buck 112 is a unique take on a Buck classic. While no one told us just how many are available, this run is limited (count on it). These knives will sell quickly, so you should probably get on it sooner rather than later. The standard 112 retails for $77.00, but Smoky Mountain Knife Works is offering their exclusives for $69.99. You can see them all by clicking the button below.

Get this Case Collectible now while it lasts!
The Case Two Blade Folding Hunter with Yellow Synthetic Handles and CV Blades is a special production run of just 750 pieces. While the single blade folding hunter is part of Case's line, they don't normally make the two blade in this variation. Featuring two chrome vanadium steel blades and yellow synthetic handles, this knife can easily handle any hunting or everyday task. Pick one up for your pocket or collection today. Click the link or image above to get it now.
Do not miss our Daily Flash Sales
Now, if you're not keeping up with our Daily Flash Sales, then you're probably missing out. The prices are simply outstanding and sometimes hard to believe. Each morning at 9am, we put up to eight items onto our Flash Sales page, and the prices are good for 24 hours (til 9am the next morning). If you love knives and get in the habit of checking that page every day, you will definitely find something that strikes your fancy. Your wallet will thank you. I promise.
Upcoming Events
August 24
National Knife Day
A Massive Sales and Giveaway Event online at smkw.com
October 20-22
SMKW Rep Weekend
Smoky Mountain Knife Works
November 24
Black Friday
Smoky Mountain Knife Works & smkw.com
Follow us on Social Media
If you're not following us on Facebook, Twitter, and Instagram, you're missing out! We use them to quickly alert our customers about events, specials, fun facts, and of course, great giveaways.  Here are the links you need to follow our social media accounts. Click the icons below to find our pages.
facebook.com/SmokyMountainKnifeWorks/
instagram.com/smokymountainknifeworks/
twitter.com/SMKWcom
You might also like