We're just a few weeks away from Fall, and the weather is already starting to shift to cool crisp mornings. Won't be long til the leaves begin to change colors. We're locking in plans for some events that are just around the corner like "Talk like a Pirate Day" and our annual Vendor Rep Weekend in October, but let's talk about what's happening right now.
Get your SMKW Kershaw Flight Tag before they're gone!
We're not going to make you jump through hoops to get a free gift. While supplies last, you'll get a free SMKW Kershaw Flight Tag with any Kershaw purchase of $50 or more. That's right. Spend $50 or more on any Kershaw brand product, and you'll get a free Kershaw Flight Tag. Click here to find something that qualifies: Kershaw Brand Category.
With Harvey and Irma in the South, and the crazy wildfires out West, there are thousands of people in need of your help. Our thoughts and prayers are with all of our friends affected by these disasters. If you'd like to help too, the American Red Cross is among the first groups into any disaster area and provide relief to thousands. You can find out what they need and how you can help by visiting their main site here: American Red Cross.
The Benchmade 810 Contego, a tactical masterpiece
The Benchmade 810 Contego has some of the most desired features and materials on the market, and it's one of Warren Osborne's most popular designs. This knife is a comfortable balance between an EDC, bushcraft, and tactical knife. It may be fairly expensive, but the Benchmade 810 Contego is a versatile knife that won't let you down.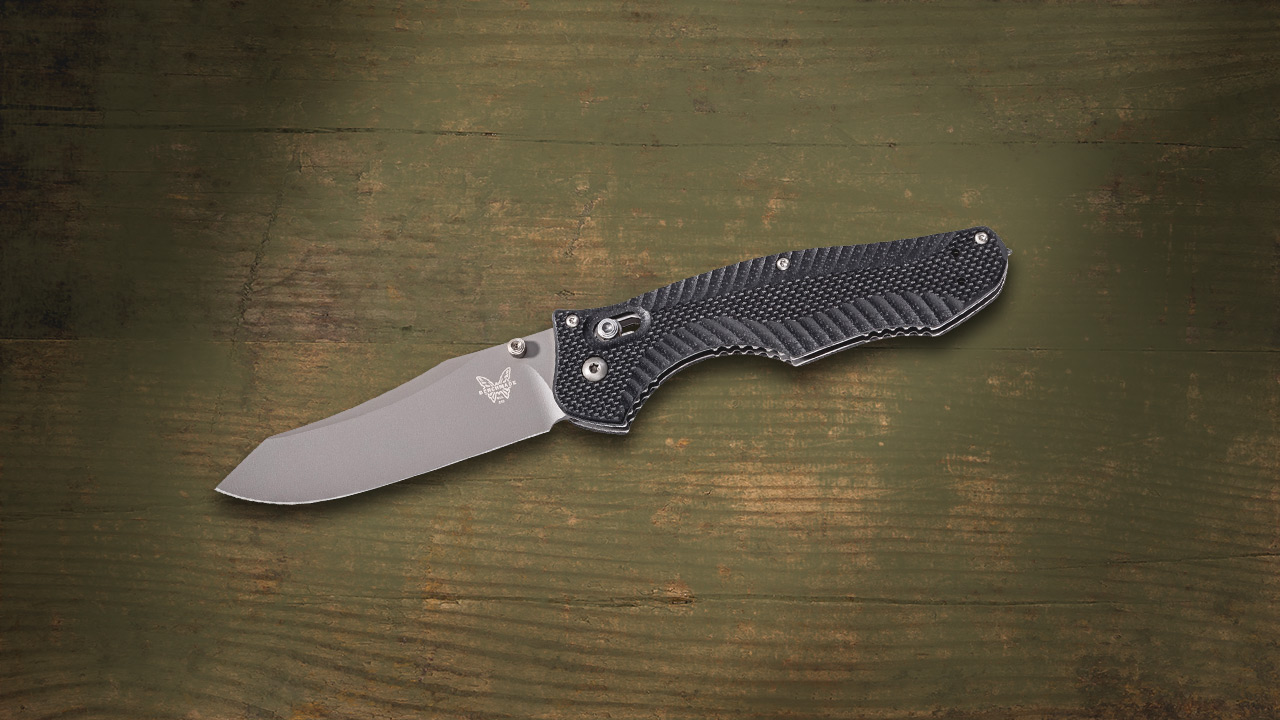 The 810 features Benchmade's next generation, cutting edge CPM-M4 stainless steel. It has great corrosive resistance, holds an edge well, and doesn't require expensive machines to sharpen. The blade is a reverse tanto design that gives you plenty of belly to cut with, but also an extremely sharp tip for penetrating power.
This model has a G10 handle with a deep texture grip. There are two finger grooves on the handle that improve grip, but Benchmade also added some jimping just to make sure. The base of the handle features a glass breaking tip and a reversible pocket clip.
The knife locks firmly in the open position by using the popular axis lock mechanism. This system is rated to hold the blade open in any situation. Benchmade says that the lock can hold in access of 200lbs. Overall, the handle and locking mechanism are well designed and great in a wide variety of situations.
Like any Benchmade article that I write, I have to include some basic warranty details. The Benchmade 810 Contego comes with Benchmade's Lifesharp service. This means that you can always send the knife back to Benchmade for them to service and sharpen. They will fix or replace your blade, handles, pocket clip, or anything else you can think of. The boys in Oregon really care about their product and this service is a real testament to that.
The Benchmade 810 Contego Details
Cpm-M4 stainless steel blade
G10 handle
Axis lock
Glass breaking tip
Lifesharp service
4″ blade length
5 3/8″ closed length
Made in the U.S.A.
The Benchmade 810 Contego is a staple in the Benchmade lineup. This knife is a fan favorite for anything from bushcrafting to carrying around the office. Benchmade uses premium materials to offer you one of the best knives that you'll ever own. The Contego retails for about $230.00 at MSRP, but we've got it for only $195.50. You can check this deal out by simply clicking the button below.

The Chaparral isn't your standard Spyderco
Spyderco's lineup is full of quality knives that feature handles of every color. But, there isn't really any model that has particularly beautiful handles. The Spyderco Chaparral is the knife that changes all of that. This knife features not only beautiful handles, but also a fair price tag.  The Spyderco Chaparral is certainly a knife that would look great in your collection.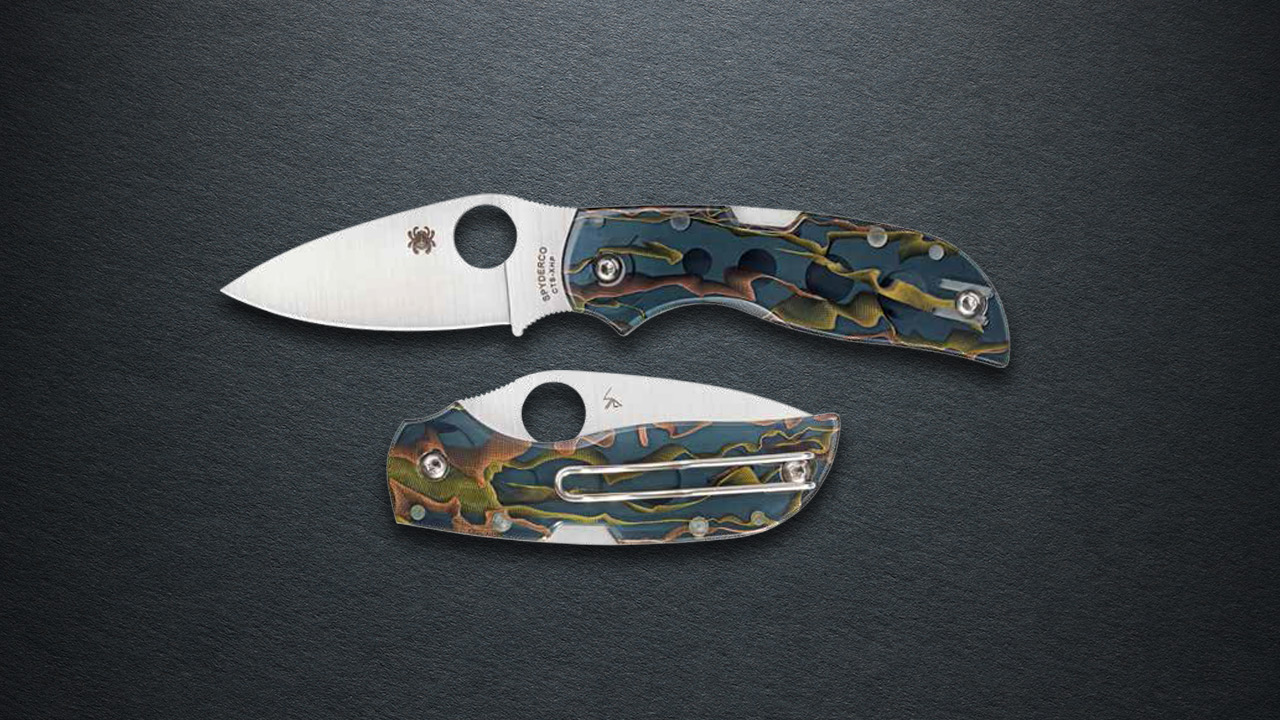 The handles on the Chapparal are show stoppers. They were designed by Raffir Noble in Denmark and feature copper and brass mesh encased in a smoked, yet translucent, acrylic. This design gives the appearance of beautiful ruffles of orange and yellow.
This model has a lockback design, so there aren't any odd lines in the artistic handles. Even the pocket clip is a wire design for maximum display of the handles.
The Chaparral's CTS-XHP steel blade is cutting edge – literally. This sharp blade utilizes a premium steel that's not often found on the market. This steel has very similar properties to D2 tool steel, but with greater edge retention and corrosion resistance. The blade is a standard Spyderco drop point, but this model has a flat grind to it which makes the chaparral capable of accomplishing most tasks required of an EDC with ease.
The Spyderco Chaparral Details
CTS-XHP blade
Raffir Noble designed handles
Lockback
3″ drop point
6 7/16″ handle
Made in Taiwan
The Spyderco Chaparral is certainly a refreshing change-up from the standard Sypderco design. Not only are the handles top notch, but the steel and blade grind are too. This knife may be high quality, but it comes for the reasonable price of $119.97. You can simply click the button below to check it out.

Check out the Victorinox Swiss Classic Drawer sets
These two Swiss Classic Drawer sets are sure to make an excellent gift for the cook in your life. Yes, I said Victorinox – as in Swiss Army knives, Victorinox, and while they're mostly known for making the famous Swiss Army knife, anyone who loves to cook will tell you that Victorinox also excels at making kitchen knives. Their knives feature top grade steel and the most popular patterns used around the kitchen.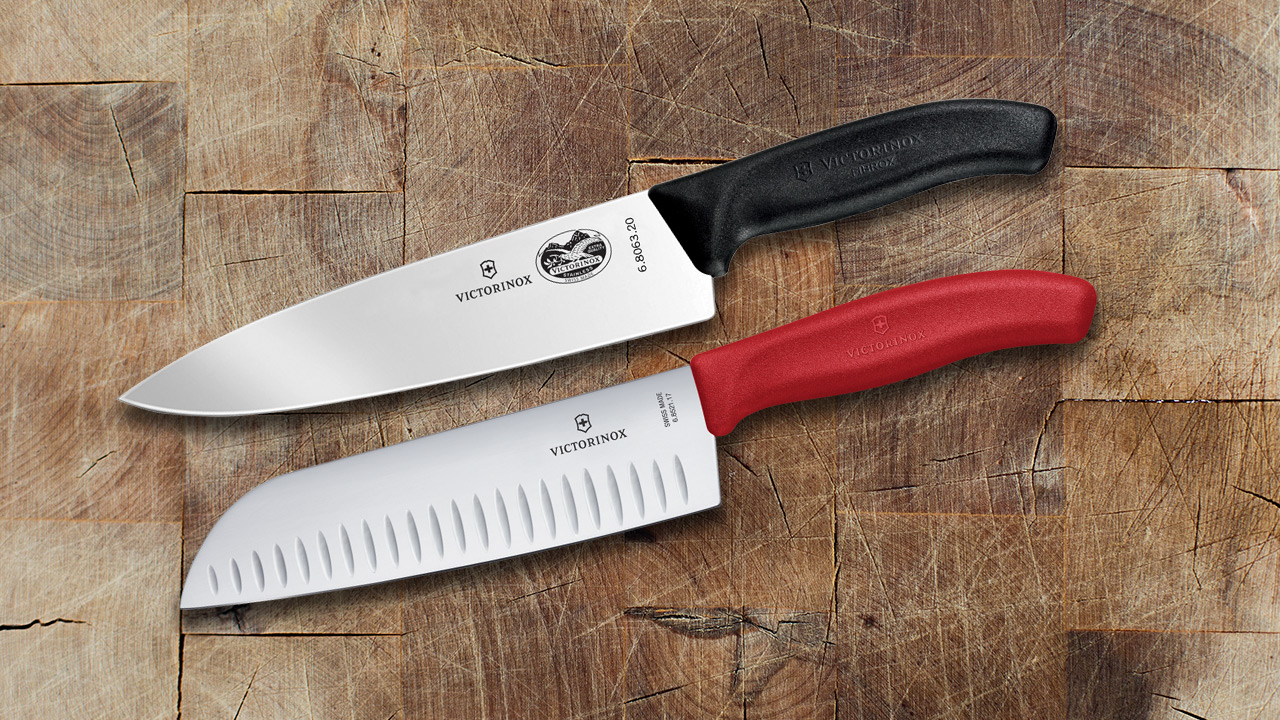 For $99.99, Victorinox has their red handled drawer set. This set comes with three quality knives and a wooden drawer insert to hold them. The blades are made from quality high carbon stainless steel. This steel wont rust on you even when cutting through more acidic fruits and other foods. They all have red synthetic handles with slip resistant grips. They are comfortable and won't fade or deteriorate when washed. The wooden drawer insert is a 7-slot hardwood block. We know this set comes with three knives, but Victorinox gave you extra slots to expand and customize your set.
This set comes with a Santoku knife, a chef's knife, and a paring knife. The chef's knife has an 8″ blade and 13-1/2″ overall length. The Santoku has a 7″ blade with an 11-3/4″ overall length, and the paring knife has a 3-1/4″ blade and a 7-1/2″ overall length. These blades are all made in Switzerland.
For $139.99, you can get a bit of an upgraded package of the drawer set. This set comes with five quality knives in the same style drawer insert as the $99.99 set. The difference here is that these knives have black synthetic handles with slip resistant grips – instead of the red. This set comes with the same 7-slot hardwood block, so expanding your collection is still an option. This set comes with a 7″ Santoku, an 8″ chef's knfie, an 8 1/4″ bread knife, a 4 1/4″ utility knife, and a 3 1/4″ paring knife.
The Swiss Classic Drawer Sets Details
High Carbon Stainless Steel Blades
Red or Black Synthetic Handles with Slip Resistant Grip
7-Slot Wood Block Included
Made in Switzerland
We have the Swiss Classic Drawer sets sets at Smoky Mountain Knife Works (smkw.com).

Don't miss Vendor Rep Weekend October 20-22!
Every year, SMKW celebrates the brands we carry by hosting Vendor Rep Weekend at our retail showroom in Sevierville, Tennessee. This year more than 50 brands will send representation to this event to meet and talk with our showroom guests. The celebration, which runs from Friday, October 20 – Sunday, October 22 (9am-9pm daily), includes some great prices, incredible door prizes and giveaways all day, every day (must be present to win), and the opportunity to meet some really special guests. This is the one event that you do not want to miss! We'll share more as we get closer!
Upcoming Events
October 20-22
SMKW Rep Weekend
Smoky Mountain Knife Works
November 24
Black Friday
Smoky Mountain Knife Works & smkw.com
Follow us on Social Media
If you're not following us on Facebook, Twitter, and Instagram, you're missing out! We use them to quickly alert our customers about events, specials, fun facts, and of course, great giveaways.  Here are the links you need to follow our social media accounts. Click the icons below to find our pages.
facebook.com/SmokyMountainKnifeWorks/
instagram.com/smokymountainknifeworks/
twitter.com/SMKWcom
You might also like