How did September go by so quickly? It seem like it just started and now it's gone. Time is definitely flying this year, so we're going to take a minute today to remind you of some things that are coming up at Smoky Mountain Knife Works in the near future.
Vendor Rep Weekend October 20-22
We'd like to invite you to visit our retail location in Sevierville, Tennessee October 20-22 for our annual Vendor Rep Weekend! Enjoy store wide savings, food samples and giveaways! There's something for everyone, so make plans now to attend! 
What is Vendor Rep Weekend?
Every year, SMKW celebrates the brands we carry by hosting Vendor Rep Weekend at our retail showroom in Sevierville, Tennessee. This year more than 50 brands will send representation to this event to meet and talk with our showroom guests. The celebration, which runs from Friday, October 20 – Sunday, October 22 (9am-9pm daily), includes some great prices, incredible door prizes and giveaways all day, every day (must be present to win), and the opportunity to meet some really special guests. This is the one event that you do not want to miss!
Bushcraft Skills Weekend with Special Guest Dave Canterbury – October 21 and 22
Meet special guest and instructor, Dave Canterbury – TV personality, best-selling author, and co-founder of the Pathfinder School! Join us for two days of survival skills, demonstrations and training by Dave and his staff from the Pathfinder School. They will be teaching important skills to help anyone survive in the wild. Meet Dave for autographs and photos Saturday, October 21st.
This even will also be held at our retail location in Sevierville, Tennessee!
Hunting Season is almost in Full Swing!
Check out our Hunting Guide Page! Every hunter has their favorite knife, whether it's a guthook, a curved skinner, a wide belly hunter, or something more modern we've got you covered at SMKW. To make the selection of your next hunting knife a little easier, we've put some of our favorite hunting knives, tools, and accessories all in one place. SMKW Hunting Guide
New Benchmade 818 Mini Loco released
Oregon City, OR – Benchmade has released the new Benchmade 818 Mini Loco. This 7.62″ Axis Lock folder features a 3.38″ CPM-S30V Stainless Steel reverse tanto blade. Benchmade's Product Line Manager, Greg Hall tells us, "This overbuilt, premium tactical knife features refined custom hardware. Smaller than its big brother, the 818 is perfect for everyday carry or as a backup knife."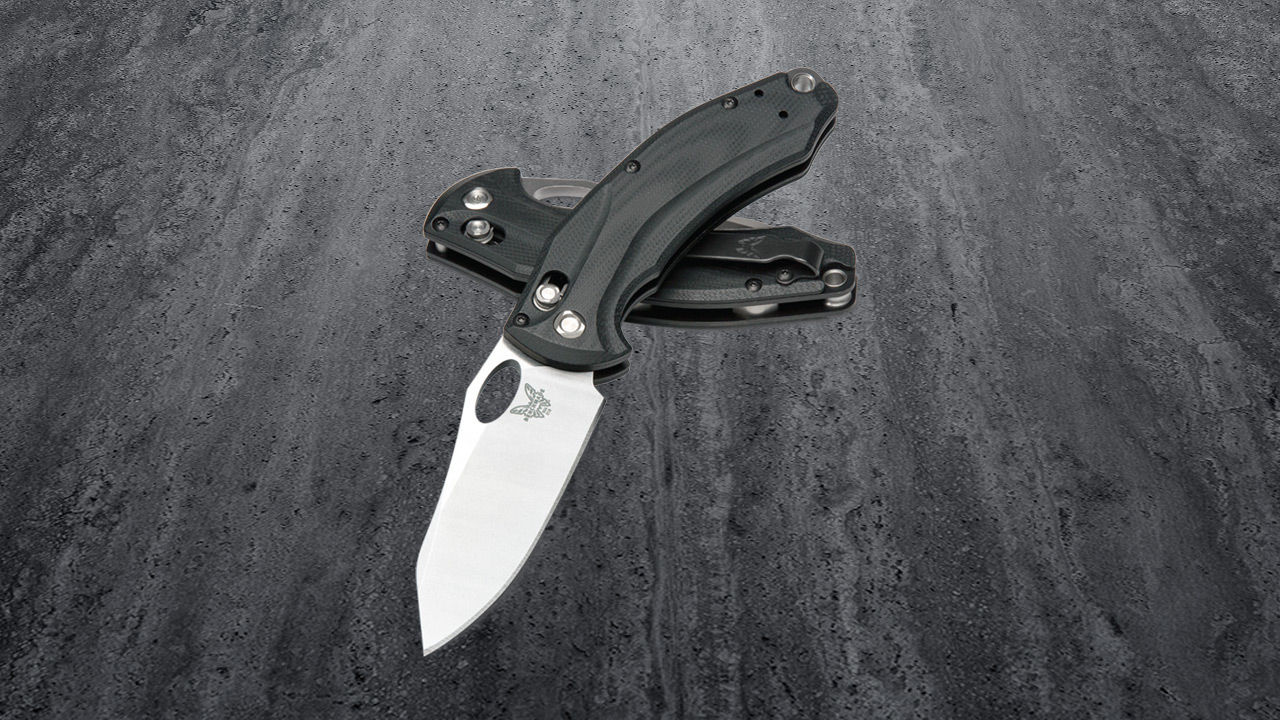 The 818 features contoured G10 handles that provide an excellent grip, as well as a reversible tip-up pocket clip.  The Axis Lock provides maximum hold, and the 818's hardware is custom-styled.
The Benchmade 818 Mini Loco Details
Style: Reverse tanto
Steel: CPM-S30V premium stainless steel (58-60HRC)
Blade: Length: 3.38″ (8.59cm)
Thickness: 0.145″ (3.68mm)
Handle: Black G10 with stainless steel liners
Lock: AXIS® lock
Hardware: Custom-styled hardware
Pocket Clip: Reversible tip-up deep-carry pocket clip
Open: 7.62″ (19.34cm)
Closed: 4.38″ (11.13cm)
Weight: 4.47oz (126.72g)
The Benchmade 818 Mini Loco is available in both standard finish ($119.25) and black finish ($204). They're both available to order by clicking the button below.

Review: Everyday TacticalVids reviews the Victorinox Trekker
This video review of the Victorinox Trekker was provided by Everyday TacticalVids and Smoky Mountain Knife Works. We hope you enjoy this new partnership and the unique reviews Tim Carpenter provides. Check out his YouTube Channel by clicking the link above.
The Victorinox Trekker Details
One-handed plain locking blade
3-1/4″ blade length
Can opener with small screwdriver
Bottle opener with locking large screwdriver and wire stripper
Phillips screwdriver
Keyring
Toothpick
Tweezers
Reamer
Wood saw
Stainless steel blades and tools
Black composition handle
3-3/8″ Blade
Blade Thickness: 1/8″
Blade Width: 1″
4-7/16″ closed
Made in Switzerland.
You can find the Victorinox Trekker for only $49.99 at Smoky Mountain Knife Works by clicking the button below.

Follow us on Social Media
If you're not following us on Facebook, Twitter, and Instagram, you're missing out! We use them to quickly alert our customers about events, specials, fun facts, and of course, great giveaways.  Here are the links you need to follow our social media accounts. Click the icons below to find our pages.
facebook.com/SmokyMountainKnifeWorks/
instagram.com/smokymountainknifeworks/
twitter.com/SMKWcom
You might also like