The retail showroom is packed with Fall Breakers this week, and we love it. If you're in Sevierville on your mini-vacation, come see us.  We're still gearing up for our big Vendor Rep Weekend (Oct 20-22) and Bushcraft and Survival Skills Weekend with Dave Canterbury (Oct 21-22). In fact, here's some more great info on the event.
Meet special guest and instructor, Dave Canterbury – TV personality, best-selling author, and co-founder of the Pathfinder School! Join us for two days of survival skills, demonstrations and training by Dave and his staff from the Pathfinder School. They will be teaching important skills to help anyone survive in the wild. Meet Dave for autographs and photos Saturday, October 21st.
This even will also be held at our retail location in Sevierville, Tennessee! Here's what's on the agenda:
Appalachian Craft for Woodsman Workshops
Saturday 10/21
10-11 :30 Lye Soap (H)
11 :30-12:00 Knife and Tool Safety (S)
12:30-2:30 Cooking Spoons/Spatulas (H)
3:00-4:00 Finger Weaving (Y)
4:00-6:00 Cherokee Baskets (H)
12:00-1 :00 Dutch Oven Cooking (S)
2:00-3:00 Rope Making (Y)
Sunday 10/22
9-10 5-Tool Rule (S)
10-12 Hearth Brooms (H)
12:00-1 :00 Reflector Oven Baking (S)
1 :00-2:30 Fur Pouch w/Antler Button Sewing Project (V)
1 :00-2:30 Flint and Steel Fire Making (S/H)
2:30-3:30 Oil Cloth Tarp Shelter Set ups
H= Hands on, 5= Seminar, Y= Youth
The Camillus CK-9: A collaboration between Camillus Cutlery and TOPS Knives
The Camillus CK-9, a Camillus and TOPS collaboration features TOPS toughness combined with Camillus style. For those who love the Camillus brand and are looking for a rugged TOPS-like knife, the CK-9 might be the knife for you.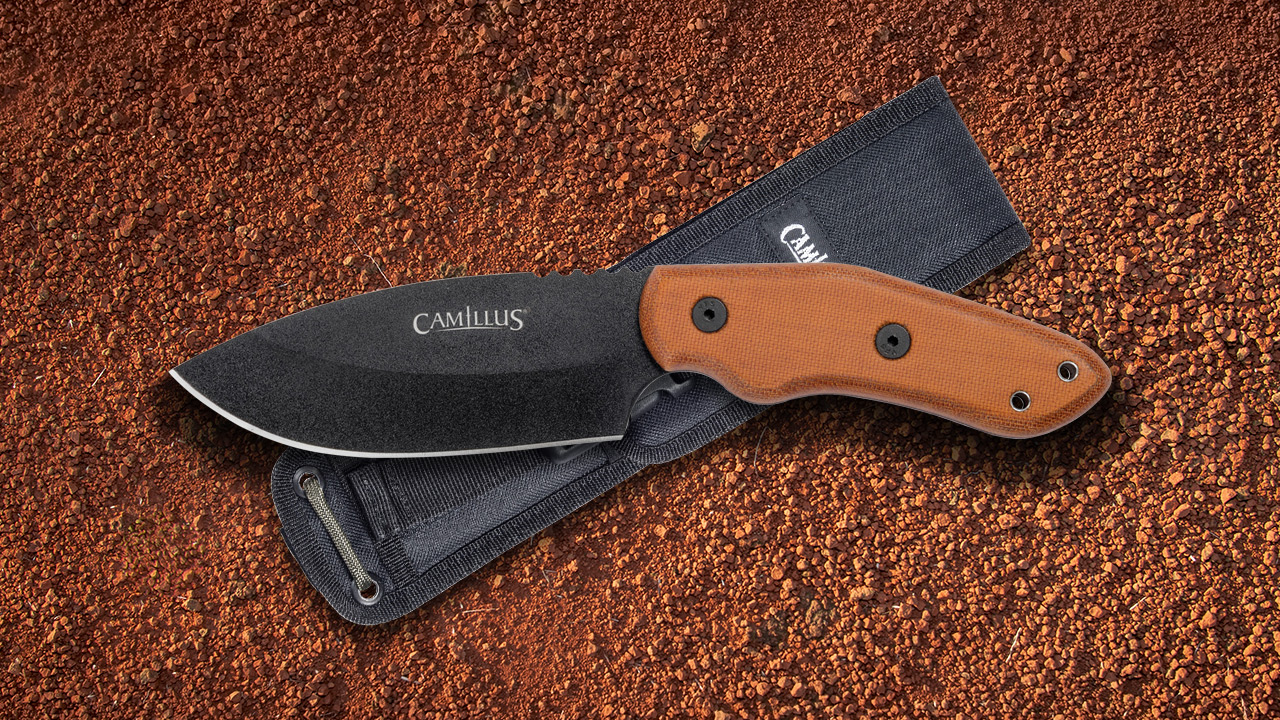 The CK-9's blade features TOPS popular 1095 carbon steel. A black traction coating helps protect the carbon steel blade from moisture and corrosion, and the traditional drop point pattern has a generous finger choil and thumb ridge on the spine. The choil and ridges really allow you to get a firm grip on the CK-9 when you need to make precise cuts.
The CK-9 features durable brown canvas micarta handles. The micarta is secured to the full tang by reinforced double rivets, and Camillus even provides double lanyard holes at the base to secure the knife or to possibly lash it as a spear.
The CK-9 comes in a quality ballistic nylon sheath. This sheath features adjustable straps and a small section of paracord. The Paracord and strap system really allows you to easily mount it however you like. TOPS was even kind enough to throw in one of their survival whistles that come standard with their knives.
The Camillus CK-9 Details
1095 Carbon steel blade
Black Traction coating
Brown Canvas Micarta handles
Ballistic nylon sheath included
Survival whistle included
Made in the U.S.A.
The Camillus CK-9 is one of the highest quality knives in the Camillus lineup. TOPS production and Camillus style goes together like peanut butter and jelly, and we couldn't be happier with this knife. You can find this knife at smkw.com for $124.99. Simply click the button below to check out that deal.

TOPS releases Wind Runner and Wind Runner XL Snake River Editions
Breaking News – Ucon, Idaho – TOPS has released Snake River Editions of their classic TOPS Wind Runner and Wind Runner XL hunting knives. TOPS says, "This new version sports our famous Black River Wash with green canvas Micarta handles to provide grip even when they're wet."  The Wind Runner and Wind Runner XL can be purchased separately or as a combo with a piggyback sheath.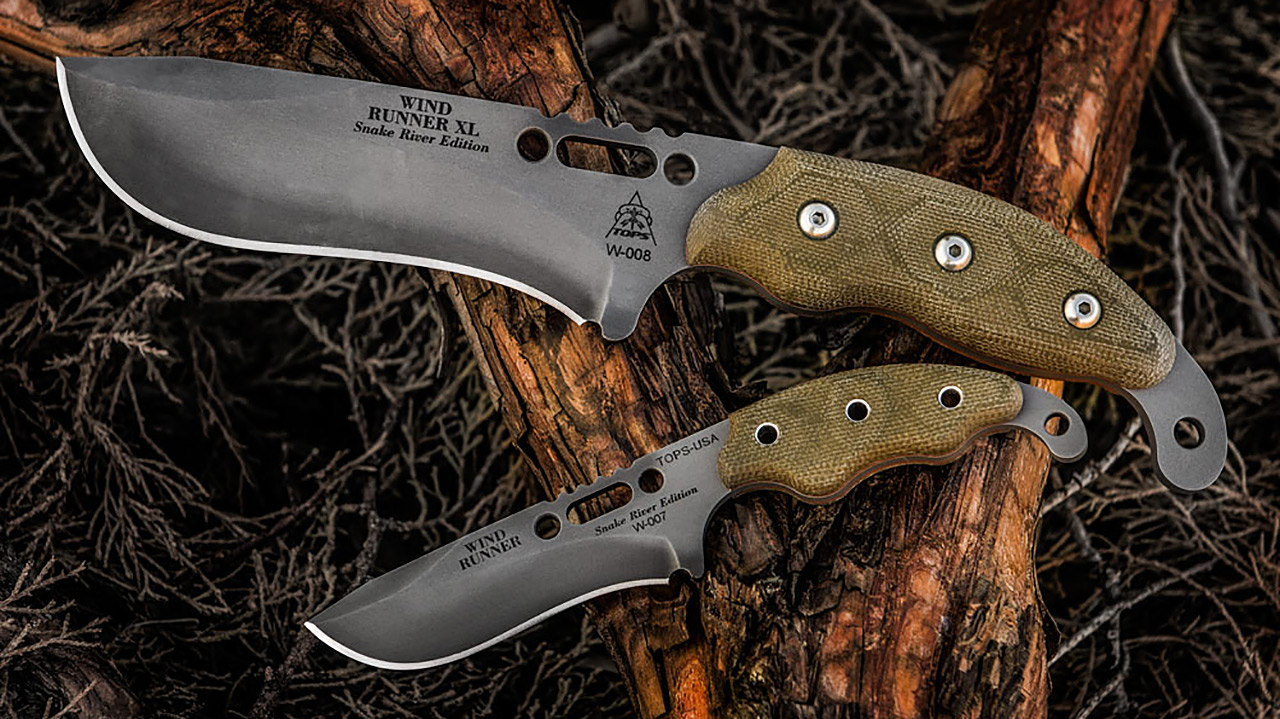 According to TOPS, "Most hunters in TOPS' neck of the woods don't hunt only one type of animal. They hunt several, and fish, and camp, and just generally like spending time outdoors. The Wind Runners were designed with them in mind. " The regular Wind Runner is designed for fish, fowl, and small game, while the Wind Runner XL is great for bigger game and general camp tasks.
"The recurved blades slice easily with tips that are subdued to avoid puncturing hides and organs while processing game," TOPS tells us.
The TOPS Wind Runner Snake River Edition Details
Overall Length: 6.25"
Blade Length: 3.5"
Cutting Edge: 2.75"
Thickness: 0.13"
Steel: 1095 RC 56-58
Finish: Black River Wash
Handle Material: Green Canvas Micarta
Knife Weight: 2.5oz
Weight w/ Sheath:  4.0oz
Sheath Material: Kydex
Sheath Clip: Neck Chain
Designer: Leo Espinoza
MSRP: $140
Made in the USA
The TOPS Wind Runner XL Snake River Edition Details
Overall Length: 9.69"
Blade Length: 5.25"
Cutting Edge: 4.38"
Thickness: 0.19"
Steel: 1095 RC 56-58
Finish: Black River Wash
Handle Material: Green Canvas Micarta
Knife Weight: 9.5oz
Weight w/ Sheath: 12.3oz
Sheath Material: Kydex
Sheath Clip: Injection Molded Nylon
Designer: Leo Espinoza
MSRP: $180
Made in the USA
Click any image below to launch a slide show of larger images.
Both the TOPS Wind Runner and Wind Runner XL Snake River Editions are available for pre-order at smkw.com. Follow the links in this article to see them and pre-order now.
The CRKT Noma: Rooted in Scandinavian hunting heritage
The CRKT Noma was designed by Jesper Voxnaes in Loegstrup, Denmark.  His inspiration for the knife came from his expansive Nordic backyard. CRKT says, "The clean lines are notably Scandinavian but the burly blade and all-weather handle make it unmistakably a hunting knife." Because of this, the Noma has a unique shape and design that's different from anything else found on the market.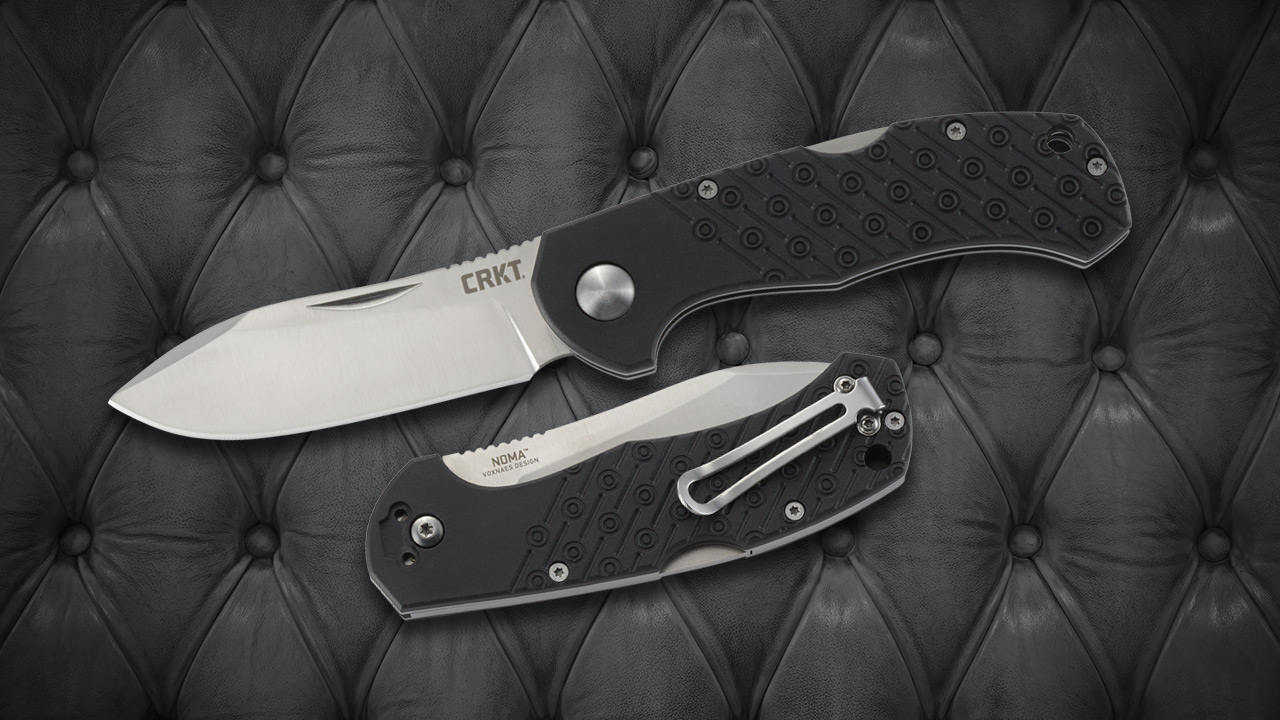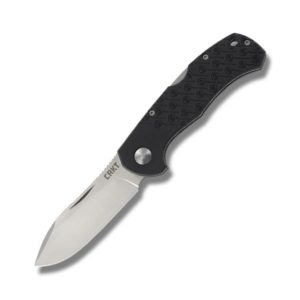 The Noma's durable 8Cr13MoV stainless steel unique drop point blade features a unique up-swept design. That odd shape gives the Noma a nice full belly and burly blade. The jimping on the spine is perfect for choking upon the blade when making a precise cut.
The Noma's glass reinforced nylon handle has a modern lockback design. The shape acts as a finger guard with minimalistic finger grooves, and the molded grip texture in the nylon handles provides additional grip. These lightweight handles have impressive durability when in tough environments.
The CRKT Noma Details
8Cr13MoV stainless blade
Drop Point blade
Glass Reinforced Nylon handle
Lockback design
3 5/16″ Blade length
4 4/16″ Closed length
The CRKT Noma has a unique design from its Scandinavian hunting heritage. This unique design gives us a compact hunting knife that has a wide belly blade on lightweight handles. CRKT says, "'Noma' translates to fate in Old Norse, and you can bet that their hunting ancestors wouldn't have left it up to anything but the Noma folding knife." We found this knife for $34.99, you can find it by clicking the link below.

SMKW now holding Facebook Auctions
Since our last weekly update, SMKW has started auctioning products from our collectibles department on the SMKW Facebook Page. So far, we've auctioned two Case knives, a Buck knife, and a Marble's USA knife. Here's some more info about our new Facebook Auctions.
SMKW Facebook auctions are conducted on the honor system and require serious bids only. Review the current bids in the replies and then place your bid as a reply. Do not bid lower than the current bid. Bids must be in whole dollar increments. Must be 18 or older and a resident of North America to place a bid. Auction will be closed when bids have ceased for a period of approximately 24 hours. Auction winners will be contacted via Facebook message to arrange payment and shipment of item. All items are sold as-is with no warranty. This auction is not associated with or sponsored by Facebook.
Please Note: If you win an auction and refuse payment, you will no longer be allowed to bid on any future SMKW Facebook Auction.
Upcoming Events
October 20-22
SMKW Rep Weekend
Smoky Mountain Knife Works
November 24
Black Friday
Smoky Mountain Knife Works & smkw.com
Follow us on Social Media
If you're not following us on Facebook, Twitter, and Instagram, you're missing out! We use them to quickly alert our customers about events, specials, fun facts, and of course, great giveaways.  Here are the links you need to follow our social media accounts. Click the icons below to find our pages.
facebook.com/SmokyMountainKnifeWorks/
instagram.com/smokymountainknifeworks/
twitter.com/SMKWcom
You might also like